Host an international student
Becoming a host through the English Language Centre's homestay program is a great way to build lifelong relationships while helping students improve their language skills and adapt to Canadian culture.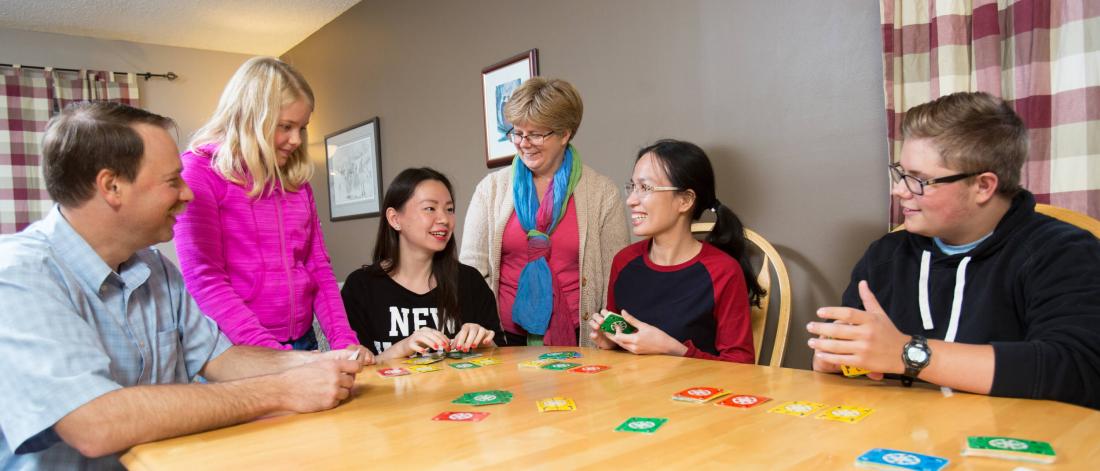 The Homestay program is not currently accepting Host applications. Updates will be announced on this page. We appreciate your understanding.
The University of Manitoba's English Language Centre (ELC) helps international students develop the language skills needed to thrive in a Canadian post-secondary environment. As part of this mandate, the ELC facilitates a Homestay program, in which students live with Canadian hosts during their studies. 
Homestay hosts gain a rich and rewarding cross-cultural experience with their international students, while being part of a well-respected Homestay program in Winnipeg. As a host, you will receive support from full-time Homestay staff while learning about your student's culture, helping them learn about Canada and Winnipeg and helping them improve their oral English.
Homestay hosts receive $850 per month for each student.
Host responsibilities
Any family, couple or single person, with or without children can apply to be a host. However, applicants must be Canadian citizens or permanent residents, and they must be fluent in English and speak English in the home. As a host, you will take on the following responsibilities:
Pick up the student at their arrival point (airport, bus terminal, or train) and arrange for transportation for their departure.
Orient the student to Winnipeg, to their neighbourhood, buses, and banks as well as to the University campus.
Provide a clean, safe, comfortable home environment for students.
Provide three healthy meals a day. Breakfast and lunch materials to be provided for student to make their own meal. Dinner prepared and cooked by a host member.
Allow the student full use of the household including telephone, television, and living areas. This includes helping the student understand appropriate use and time of use.
Provide an English speaking environment and encourage the student to speak English in the home.
Respect the rights, privacy, and culture of the student, including gender identity, sexual orientation, religious and political beliefs.
Assist the student's adjustment to Canada and encourage the student to learn about Canadian culture, lifestyle, activities, and family life.
Read and sign the Homestay agreement (PDF) after being accepted into the program and the Homestay pledge (PDF) each time a student is placed in the home
During the first month, hosts need to be prepared to pay expenses for their students before receiving the first payment.
Homestay home requirements
Homestay homes must be located near the university, with no more than 35 minutes travel time by bus, with no more than one bus transfer, and a maximum walking time of 10 minutes from the home to the bus stop. Homestay homes must provide: 
A private bedroom for each student furnished with a comfortable bed, dresser, desk, lamp and closet;
bedding and towels;
wireless internet;
laundry facilities, including washer, dryer and laundry detergent (If the host is living in an apartment with shared laundry facilities, the host must pay laundry costs for the student);
cleaning supplies for the student to keep their private living space clean;
smoke alarms located on each floor between the bedroom and living area and
a fire extinguisher.
Every bedroom must have a window that has an unobstructed area when open of at least 0.35 m2 with no dimension less than 380 mm. The bottom of the window should not be more than 1.5 m from the floor. If the window is more than 1.5 m, then steps or furniture located to get to window is to be provided.
The Homestay program reserves the right to choose hosts using these criteria and to remove hosts from the program who fail to continue to meet these criteria.
How to apply
To apply to be a Homestay host, you must submit an online application, three references per host from friends, co-workers or supervisors and a Winnipeg Police Information Check with Vulnerable Sector Search for all persons 18 years old and above living in the home
Please submit your application at least two to three months before the start of the term in which you would like to be a host.
Applications are processed in the order they are completed and take into consideration the following factors:
Proximity to the University of Manitoba (within walking distance, or on a direct bus route requiring no transfers is preferable).
Willingness to host either male or female students.
Willingness to host a student from any country.
Willingness to host students with particular dietary practices or restrictions.
The need for hosts who can provide a home that meets certain student requests (i.e. smoking/non-smoking, pets/no pets)
After you apply
Once the application requirements are met, Homestay staff will evaluate the suitability of the applicant and home for the program by conducting a home visit and interview. 
Homestay hosts are chosen for their strong English language skills, keen interest in other cultures, and commitment to providing a beneficial living experience to the visiting student as well as room and board.
The need for Homestay spaces depends on the number of new students arriving for any given session at the University of Manitoba.
Student placements
Homestay staff will do their best to match students and hosts appropriately, and to facilitate good relationships between them. The number of student placements per term will depend on the number of new students arriving. Hosts with available rooms in any given term may not be guaranteed a student.
In most cases students are placed in a Homestay for a four-month term, with terms beginning in January, May and September. Generally, students arrive one week prior to the start of their program of studies. Occasionally students or researchers may apply mid-term or for periods of time that do not correspond with the regular terms. Although students are expected to stay in Homestay homes for the full term (four months), some students may choose to leave early.
You may also be looking for
Contact us
English Language Centre
520 University Centre
65 Chancellor's Circle
University of Manitoba (Fort Garry campus)
Winnipeg, MB R3T 2N2
Canada
204-474-6809
Emergency contact: 204-228-2280