Sustainability of Canadian Agriculture 2023 Virtual Conference
Sustainable food production systems: Exploring new and traditional knowledge
MARCH 7-9, 2023
Co-hosted by the University of Manitoba's National Centre for Livestock and the Environment and Agriculture and Agri-Food Canada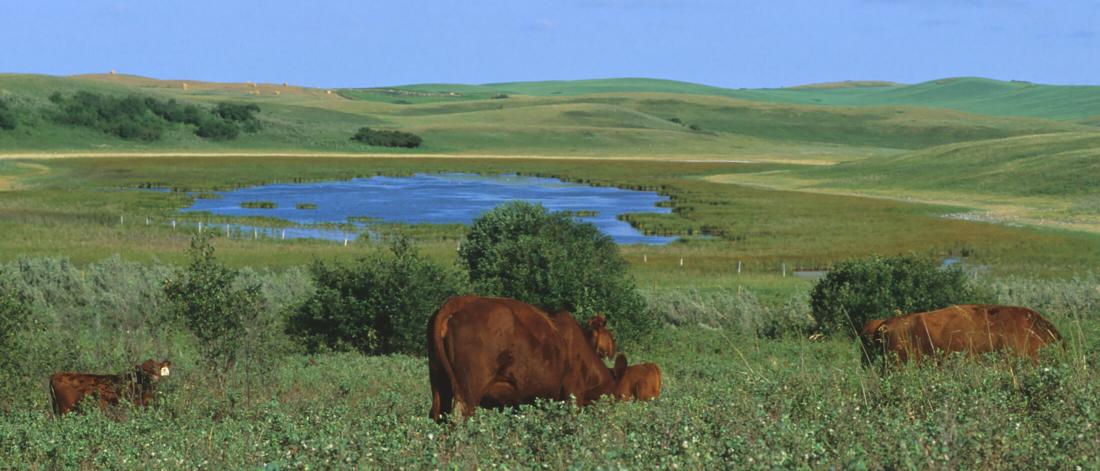 About
Photo credit: DUC
This 3-day virtual conference brings together researchers, students, producers, government, commodity organizations and industry representatives with a range of perspectives to collectively share ideas and experiences about how to improve agricultural sustainability in Canada. Sessions will feature brief presentations followed by facilitated panel discussions exploring the path to achieving net zero emissions on farms, addressing the role of Indigenous agriculture in our food systems and examining the importance of preserving and enhancing biodiversity on the prairies and beyond. This year's conference will provide an update on Canada's Living Lab Projects and the opportunity for attendees to join two live question and answer sessions with researchers and industry experts. In addition, the conference will include a hands-on interactive morning workshop on the Holos model designed to estimate on farm greenhouse gas emissions, as well as a research update featuring graduate students who will share their findings through short videos.
Registration is required to attend this free conference - register today!
Conference Planning Committee
| | |
| --- | --- |
| University of Manitoba: | Kim Ominski, Emma McGeough, Doug Cattani, Marcos Cordeiro, Mario Tenuta, David Lobb, Peter Frohlich |
| Agriculture and Agri-Food Canada: | Roland Kroebel, Emily McAuley, Sarah Pogue, Aaron McPherson |
| Ducks Unlimited Canada: | Kristine Tapley |
| Industry/Farm Production: | Melissa Atchison |
Day 1 - Tuesday March 7
Keynote
1:00-1:10 pm

Welcoming Remarks
Kim Ominski and Roland Kroebel, Co-chairs

1:10-2:15 pm

Keynote: Are net zero emissions achievable?

Henry Janzen
Tim McAllister - Principal Research Scientist, University of Calgary, Chair of the Livestock – Environmental Assessment Partnership, United Nations
Achieving net zero emissions
2:15-3:15 pm
Moderator: Mario Tenuta

Anne Mottet - Livestock Development Officer, Food and Agriculture Organization, United Nations
David Burton - Soil Scientist, Dalhousie Distinguished Research Professor, Director - Dalhousie's Centre for Sustainable Soil Management, Fellow of the Canadian Society of Soil Science.
Korb Whale - Director, Lactanet, Dairy Farmers of Canada and Cornerstone Renewables

3:15-4:00 pm
Panel discussion
4:00-4:15 pm
Break
4:15-5:00 pm
Graduate Student Research Video Competition 1
5:00 pm
Adjourn
Day 2 - Wednesday March 8
Role of Indigenous Agriculture in Our Food Systems
9:00-12:00 am

HOLOS model workshop - Aaron, Roland

Sarah Pogue - Holos Model Developer, AAFC Lethbridge Research and Development Centre

12:00-1:00 pm
Lunch
1:00-1:45 pm
Graduate Student Research Video Competition 2
1:45-2:45 pm

Moderator: Emily McAuley

Leroy Little Bear
Bridge to Land Water Sky
Melissa Arcand - Associate Professor, Department of Soil Science, University of Saskatchewan
Anthony Blair Dreaver Johnston - Special Advisor, Mistawasis Nehiyawak

The Bridge to Land Water Sky is the first Indigenous-led agricultural Living Lab project in Canada. The Bridge is led by Mistawasis Nêhiyawak in collaboration with Muskeg Lake Cree Nation in Treaty 6 Territory of Saskatchewan along with partners from the Saskatchewan Aboriginal Land Technicians, North Saskatchewan River Basin Council, Redberry Lake Biosphere Region, University of Saskatchewan, and Agriculture and Agri-Food Canada. This project will co-develop and test nature-based climate solutions with local Indigenous and non-Indigenous producers who farm on First Nations governed agricultural lands for climate change mitigation, but also to strengthen co-benefits, including biodiversity, water quality, and food security. The Bridge to Land Water Sky project will see producers and First Nations work towards a common goal of climate resiliency while committing to the protection of Indigenous values, Treaties, communities, and land, water, sky. In this presentation, we will discuss the Living Lab and the relationship-building that led to the collaboration necessary for its formation.

Kyle Bobiwash

2:45-3:00 pm
Break
3:00-3:45 pm
Panel Discussion
3:45-4:30 pm
Barley Sandwich – Q and A with industry and researchers
4:30 pm
Adjourn
Day 3 - Thursday March 9
Is Biodiversity the new Carbon?
12:00 - 1:00 pm
Living Labs – A new approach to on-farm innovation in beneficial management practices to tackle climate change
Kevin Anderson - Living Labs Climate Change Lead, Agriculture and Agri-Food Canada

The living labs concept provides a new approach to agricultural innovation in Canada, which brings together farmers, scientists, and other collaborators to co-develop and test innovative management practices and technologies. Through a nation-wide network of living labs, the initiative focuses on innovative solutions to environmental issues related to agriculture, such as climate change, soil health, water quality and biodiversity. The goal of the program is to accelerate the development and adoption of sustainable practices and technologies by Canadian farmers.

This talk will show how the living labs approach is been used at Agriculture and Agri-Food Canada to develop and deploy natural climate solutions in Canada's agricultural sector through the Agricultural Climate Solutions program.

1:00 - 1:45 pm
Graduate Student Research Video Competition 3 and Voting
1:45 - 2:45 pm

Moderator: Tim McAllister

Beef Production's Contribution to Biodiversity and Habitat Connectivity
Majid Iravani - Applied Research Scientist, Alberta Biodiversity Monitoring Institute, University of Alberta
Beef and ecosystem services in Canada: an examination of synergies and tradeoffs
Sarah Pogue - Holos Model Developer, AAFC Lethbridge Research and Development Centre
Ian Cook - Grassland Conservation Manager, Birds Canada

2:45 - 3:00 pm
Break
3:00 - 3:45 pm
Panel discussion
3:45 - 4:00 pm
Wrap up and Concluding Remarks
4:00 pm
Barley Sandwich – Q and A with industry and researchers