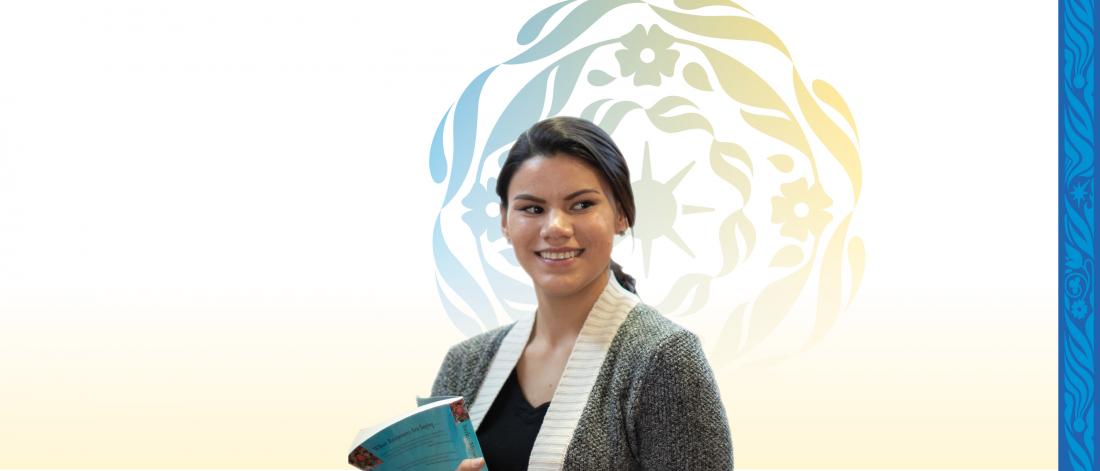 Qualico Bridge to Success Program
Supporting first year Indigenous student success
The Indigenous Student Centre (ISC) is pleased to offer the Qualico Bridge to Success Program (QBTS). The goal of this program is to facilitate the transition of new Indigenous (First Nation, Inuit, Métis) students into post-secondary education at the University of Manitoba by offering pre-orientation activities, academic learning support, advising, peer mentoring and special events that will enhance the first year experience. There is no cost to participate in this program.
The QBTS Program nurtures the spiritual, physical, mental and emotional strengths of Indigenous students so they can be as successful as possible in their first year of study. 
Who is considered a QBTS student?
Any student who applies to participate in the program is considered a QBTS student. A QBTS student who completes three or more activities between August to April will be considered as completing the program successfully. Being a successful QBTS student at the end of the academic year will qualify students for one of four $1000 tuition prize draws. The recommended core activities are to attend a boot camp, have a mentor through the Neechiwaken program and register for the QBTS section of ARTS 1110. These are the most popular program components! There are also incentives offered throughout the year for attendance at workshops, advising programming and Indigenous Student Centre events.
Activity examples (not a complete list):
Attend online Qualico boot camp sessions
Enroll in reserved lecture/lab section of ARTS 1110 
Attend at least one appointment with our reading specialist
Attend a Career Planning Workshop organized for QBTS
Attend a Virtual Study Hall or a Migizii Agamik Study Night
Attend a cultural learning workshop organized for QBTS
Attend a wellness activity organized for QTBS
ARTS 1110 (Introduction to University)
ARTS 1110 is designed to help students make the transition to university by imparting the knowledge, skills, and attitudes requisite for success in university study, including how to write an academic paper. In the Fall 2021 term, QBTS students can take a reserved section of this course, which is ARTS 1110 (A07) with Instructor Tim Podolsky - CRN 20820. Registering for this QBTS section will require special permission. Please contact Carla Loewen at Carla.Loewen@umanitoba.ca to request permission. She will send you the permission form needed for this course (and will send it to applicants when they apply to the program). The benefit of the QBTS section is that students get to learn with the same group of students during the Fall 2021 term during the lab portion of the course on Thursdays from 1:00 - 2:15 p.m. The QBTS facilitator will check in on the class periodically and keep track of progress. At least one writing retreat during the term will be offered to provide writing support for essay assignments in partnership with ARTS 1110 staff.
Registration Tip: To register for this course, you will find it under the subject called "Arts Interdisciplinary" in Aurora. Look for section A07. You will need permission before this class can be added. Since registration is by permission only; if you do not get permission in time for your registration date, you can hold that spot in your schedule so you can add it once the permission has been added to your Aurora account.
Qualico Boot Camp
Want a pre-orientation to university before university starts? Join a Qualico boot camp! This summer, the boot camp is organized into two online sessions (with multiple dates to choose from). In Part 1, students will get detailed information about Indigenous Student Centre and campus resources; virtually meet other new students, staff members and faculty; and learn tips about what to expect in the upcoming year. Part 2 focuses on community-building, cultural learning opportunities and information about the Neechiwaken program. There is no cost to participate and attendees will be sent Zoom login instructions prior to each session. This will be fun and informative, with prizes to be won!
How to apply to QBTS
Interested applicants are welcome to contact the Indigenous Student Centre at any stage of the admission process. There is no cost to join this program and all program components are free except for the associated tuition costs for ARTS 1110. 
Benefits of the Qualico Bridge to Success Program:
Be part of your student community
Dedicated student advisor support
Opportunity to access supplemental academic resources
Opportunity for financial wellness learning
Participation can be included on applications for scholarships, bursaries or jobs
FAQs on Applying
Students can join if they are full or part-time students
Students can attend a boot camp in September even if starting classes in January
Students can be part of the program if they cannot attend a boot camp
A QBTS section of ARTS 1110 is not offered in the Winter Term
Students interested in applying for the QBTS in the Winter Term can request a paper application
Contact us
If you have any questions about the Qualico Bridge to Success Program or would like to talk to a student advisor, please contact the Indigenous Student Centre at: