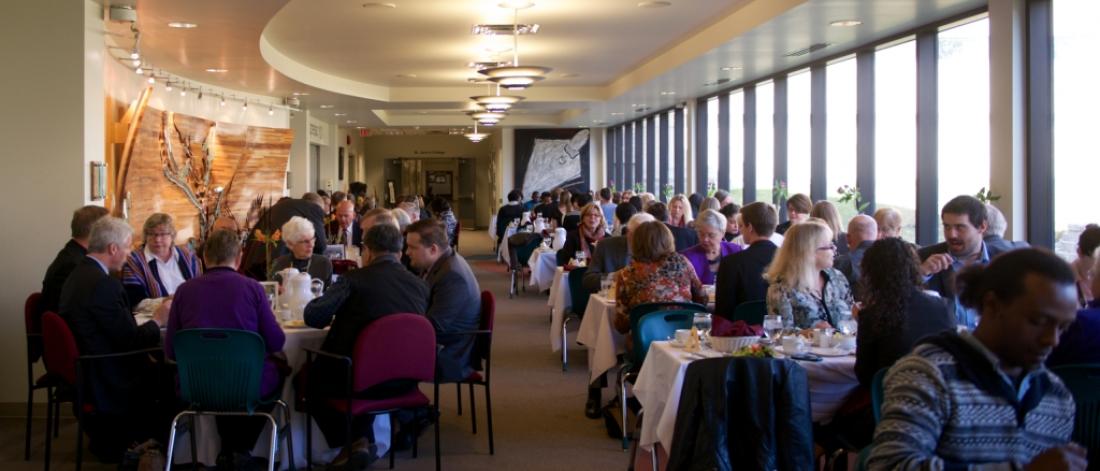 Opportunities to give
The following opportunities have been identified by the Warden and Council as the areas of greatest need on the St John's College campus. Please contact Jackie Markstrom, jackie.markstrom@umanitoba.ca or 204-474-9350 for more information or to find other opportunities.
Academic Endowment Fund
These funds are used for initiatives in research, public lectures and conferences.
Canadian Studies Endowment Fund
A strengthened and expanded Canadian Studies program will promote excellence in learning and be a valued contribution to the interdisciplinary study of Canada.
Chaplaincy Endowment Fund
The Chaplain assists our community to grow in grace, intellectually, physically, spiritually, emotionally and to become stronger more integrated people. The Chaplain provides counseling, support and organizes Chapel services.
Residence Improvement
Students who live on-campus tend to do better academically and graduate sooner than those who live off-campus. The college works to ensure our 100 room residence is as up-to-date as possible.
Scholarship/Bursary Endowment Funds
To help offset the cost of their education scholarships and bursaries are offered to Members of the College. Scholarships make education attainable for those who need financial assistance and they enable students to focus on university and learning.
Here is a complete list of all St John's College Scholarships and Bursaries.
Where Needed Most
Unrestricted gifts allow the College to meet its most urgent needs, ensuring that it continues to provide a rich and well-rounded educational experience promoting excellence in theological and secular learning.
Theology Endowment Fund
The Faculty of Theology offers courses in Bible and theology to train and equip persons in their ministry, and enhance key academic skills.
Establishing a Bequest--Legacy Giving
A charitable bequest is simply a distribution from your estate to St John's College through your Last Will and Testament. The most important step in the process of creating a bequest in your Will is deciding how the bequest will be used once the funds are received by St John's College so we can carry out your final wishes.
Securities
A security gift is a gift that is available in the form of a general bequest in your Will and Testament. Gifts of securities can be stocks, bonds, and mutual funds.
Life Insurance
A gift of Life Insurance is made when you name St John's College as your choice of beneficiary. This means that you control the policy, and the organization will receive the insurance proceeds upon death.
Charitable Remainder of Trusts
A gift of trust is made when you decide to make St John's College your choice to be the secondary beneficiary to an irrevocable trust. The primary beneficiary (or the income beneficiary) includes you, and if applicable, your spouse. Throughout your lifetime or for a stated period of time, you will receive a predetermined amount of the trust. Upon death, St John's College will receive the reminder of the trust.
A gift in memory of a loved one
A gift in memory of a loved one is a loving way to remember a close friend or family member who has passed. This type of gift ensures that their legacy is always remembered by St John's College and will go to supporting students with the best education within a caring College community.
A gift to honour someone
A gift to honour someone is a wonderful way to honour a close friend, family member, or a person who you have great respect for. This type of gift ensures that their legacy will always be remembered by the St John's College community and will continue to make a difference in the lives of the students, staff, and fellows that follow.
Donate Now
Use the CanadaHelps form below to select your donation amount, choose what you'd like to contribute to, and enter tax receipt and payment details.