Graduation and convocation
We will be hosting a Virtual Convocation on this page for all UM graduates and will include celebratory speeches, student awards and the recognition of all February and Spring 2020 graduates.
On June 29, 2020, UM will convene online for a Virtual Convocation ceremony, where each participant's name will be read and recognized.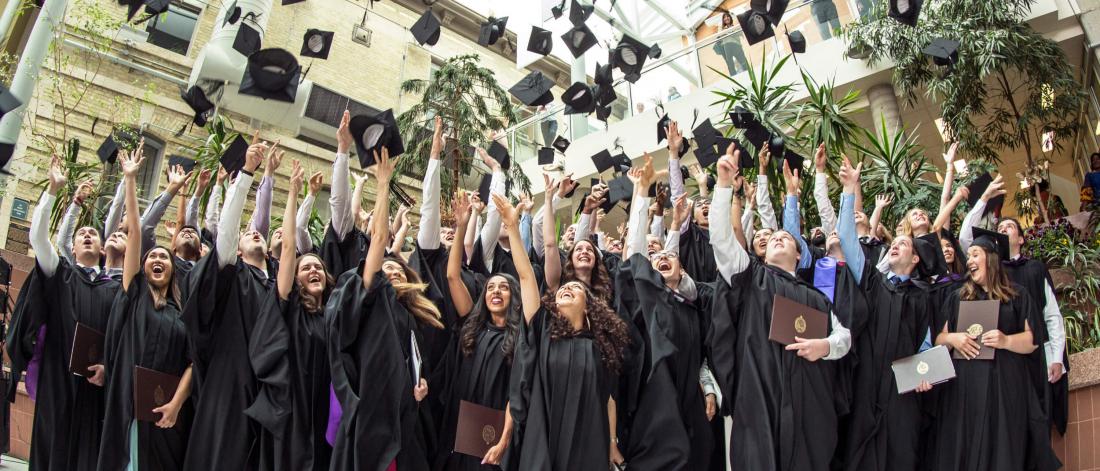 Congratulations! You did it.
COVID-19 and Convocation
The health, safety and well-being of our community members are our top priority, that is why the decision was made to cancel Spring Convocation 2020.  Please read the full story on UM Today. 
Spring 2020 graduates, you will receive your parchment by mail, approximately two weeks after your official graduation date. Please check your address in Aurora, and update if needed, as this will be the address we will use to mail your parchment.
FAQs
How can I submit requests for Graduation Documents?
You can email your request form to Graduation.Convocation@umanitoba.ca. Please note that if you are a current student, we require you to send this from your UM student email. Please leave the payment area blank and we will call you for your credit card information.
Which delivery methods will you use for my request?
Email or mail delivery:
Mail delivery:
Email: we can email your completed request to your UM student email. If you are not a current student, please indicate your email on the request form.
Mail: please note that documents will be mailed once per week. Please allow up to 2 weeks for processing. 
Please note that our office is not open. Pickup is not an option at this time.
I'm an international student and I want my document or parchment sent overseas?
We can send any document via standard mail to an international address at no extra charge. You may choose to have your document couriered to you for an extra charge and can indicate this on your form.
For a parchment to be couriered, please fill out the Parchment Delivery Request Form. You can indicate that this is your preference and we will call you for payment.
My employer/institution wants to request a document with proof of my graduation. What should I do?
The University of Manitoba has partnered with AuraData, a Canadian company specializing in secure online education verification. For fast, economical, and convenient education verification for the University of Manitoba email service@auradata.com. Call 416-406-0444 or 1-877-580-2872.
To verify information relating to Medical Internships, Residencies, and Fellowships or Undergraduate Medical Education, please refer to Max Rady College of Medicine forms and templates
Graduation deadlines
Deadline to apply through Aurora to graduate in Spring 2020

Deadline to apply through Aurora to graduate in Fall Term 2020

Deadline to apply through Aurora to graduate in February 2021
Convocation dates
Spring Convocation Ceremony – Fort Garry and Bannatyne campuses

- Fall Convocation Ceremony - Fort Garry Campus

Fall Convocation Ceremony - Bannatyne Campus
Convocation dates and times
How to apply and graduate
Contact the Registrar's Office
204-474-9420
1-877-474-9420 (toll free)
Monday, Tuesday, Thursday, Friday: 8:30 a.m. to 4:30 p.m.
Wednesday: 9:30 a.m. to 4:30 p.m.