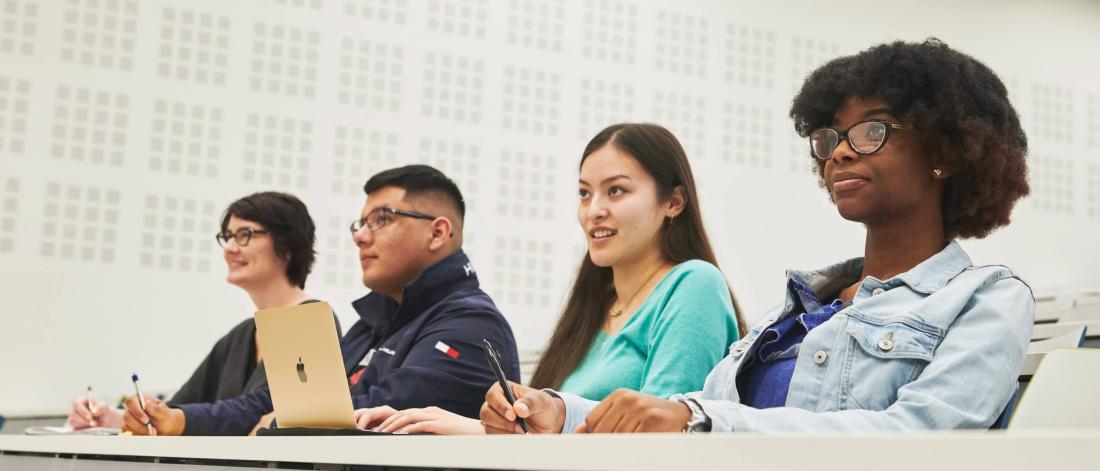 Bachelor of Education
Gain the foundation you need to build a meaningful and fulfilling career in the ever-changing teaching and learning environment. Our Bachelor of Education program includes three stream options so you can choose an age group specialty, and a wide variety of courses to help maximize your experience.
Our Bachelor of Education program includes three stream options so you can specialize your age group (early years, K-Grade 4; middle years, grades 5-8 and senior years, grades 9-12) and a wide variety of courses to help maximize your experience. Study areas include:
Indigenous knowledge and curriculum
inclusive education
cross-cultural education
technology
second-language education
education for sustainable development
curriculum areas in sciences, arts, social studies, languages, math, human ecology and physical education.
We also offer a variety of options for practicum school experience, including urban, rural, French immersion, northern and international settings.
How to obtain a Bachelor of Education degree
A Bachelor of Education at the University of Manitoba is a two-year program that follows completion of a bachelor's degree. Your first university degree and the courses you have taken must meet the Bachelor of Education admissions requirements.
It takes two years of full-time study to complete the Bachelor of Education program. Students may complete their degree on a part-time basis; however, day-time attendance is required and the practicum requires full-time attendance.
Ensure your first university degree includes the required courses for admission
Complete the Bachelor of Education Admission Worksheet (PDF).
If you are a high school student applying for university entry, use the following resources to help you choose your first degree and courses:
If you are a university student pursuing your first degree or you hold a bachelor's degree, use the following resources to see if your courses meet the admissions requirements:
Apply by the stated deadline
Online applications are available in November and the deadline to apply is Feb. 1. You must complete your first degree and requisite courses by the end of the Winter Term in the year of your application.
Diversity admissions policy
The Faculty of Education's Diversity Admissions Policy aims to ensure that graduates of the UM Bachelor of Education program help to create a more diverse teaching force in the province, representing the "cultural, ethnic, regional and social diversity of Manitoba."
Post-Baccalaureate Diploma in Education
Learning is a way of life in the field of education. Growing as an educator means adapting to a rapidly changing world, honing your skills and opening your mind to new perspectives, experiences and knowledge.
The Post-Baccalaureate Diploma in Education is designed to respond to the needs of teachers, school divisions, and educational authorities, by tailoring cohorts, course offerings, and course content to meet their needs. Interesting courses are offered yearly and are designed to address contemporary issues in the classroom. 
The program is flexible, designed for teachers and other educational professionals with busy schedules. Participants will focus on professional development through exploring advances in curriculum and methods of practice.
In addition, PBDE students can choose a focused approach to their studies through a variety of Summer Institutes that address the needs of educators.  There are also opportunities for travel study in the summer in countries like India, Ethiopia and Thailand.
Career advancement and certification
A valid Manitoba teaching certificate must be held in order to be employed as professional school personnel in Manitoba. You must apply for professional certification from the province.
The Post-Baccalaureate Diploma in Education is recognized by Manitoba Education for salary classification purposes. The program also provides the opportunity for teachers to follow courses of study leading to:
School leadership certificate
Special education certificate
School counsellor certificate
Partial fulfillment of the requirements of the school administrators' (Level 1)
Principals' (Level 2) certificate
These certificates are issued by Manitoba Education & Advanced Learning. For information regarding specialist certificates, contact:
Professional Certification Unit
Manitoba Education
Box 700, Russell, Manitoba R0J 1W0
1-800-667-2378 or 1-204-773-2998
certification@gov.mb.ca
Course selection
Post-Baccalaureate students can design their own program of study tailored to their areas of interest. Courses can be selected from the Faculty of Education as well as other UM faculties or other approved institutions.
A wide selection of courses are available through the University of Manitoba, including Summer Session, Distance Education, online courses, and Summer Institutes. Courses are available in:
Aboriginal education
Adult and post-secondary education
Expressive arts (art, drama, music)
Educational technology
Counselling
Cross-cultural education
Early years education
Educational administration
Inclusive special education
Mathematics education
Reading/language arts
Science education
Social studies education
Technical/vocational education
To see a complete list of courses and course names offered by the Post-Baccalaureate Diploma in Education program, see the "Post Baccalaureate Diploma in Education" section of the Academic Calendar. Please note that some of these courses are not regularly offered.
Master of Education
The UM Faculty of Education is an advanced educational research institute, providing graduate students the chance to study and work with faculty members actively engaged in research.
Our specializations are flexible and offer students the opportunity to complete their Master of Education (Med) on a part-time basis with numerous courses available in the evening and during the summer months.
Specializations
Select any of the MEd areas of specialization below for detailed information, admission deadlines and documents, and a list of graduate program advisors.
Completing a Master of Education program at the University of Manitoba does not qualify you for teacher certification. To obtain a Manitoba teaching certificate, you must normally be a graduate of a Bachelor of Education program in Manitoba, and your credentials are then assessed by the Professional Certification branch.
PhD in Education
The Education PhD program educates teaching professionals as researchers; the program consists of coursework and a substantial research component. By gaining an in-depth understanding of theories within the field of education our graduates work to enhance understanding and improve professional practice.
Upcoming graduate courses
Not all PhD courses listed in the Academic Calendar are offered every year. Please consult the information below for current and planned future courses.
Where your degree or diploma can take you
Your teaching degree can be applied across many areas of employment, though additional training may be required for some positions. The following links will help you explore some of your options:
Visit Career Services to get help with career planning.
Supports and opportunities
You may also be looking for
Contact Us
Faculty of Education Dean's office
Room 223A Education Building, 71 Curry Place
University of Manitoba (Fort Garry campus)
Winnipeg, MB R3T 2N2 Canada