Showcase your expertise and passion for research.
The Undergraduate Research Poster Competition is an annual event that takes place every fall at UM. $5,000 in cash prizes (three awards in each category) are up for grabs in five categories: 
Applied Sciences
Creative Works
Health Sciences
Natural Sciences
Social Sciences and Humanities
The event gives undergraduate students the opportunity to present research they've conducted with their advisors over the past year. The breadth and variety of research is significant.
Eligibility
The Poster Competition is open to all UM undergraduate students who:
Are enrolled at UM as an undergraduate student
Have a UM advisor
Are on track to obtain a UM undergraduate degree
Note:  Students who graduated in spring 2020 are eligible to participate, as long as the research represented on the poster was completed while they were and undergraduate student.
The Undergraduate Research Poster Competition is a recognized UM Co-Curricular Record activity and all participants will be recognized.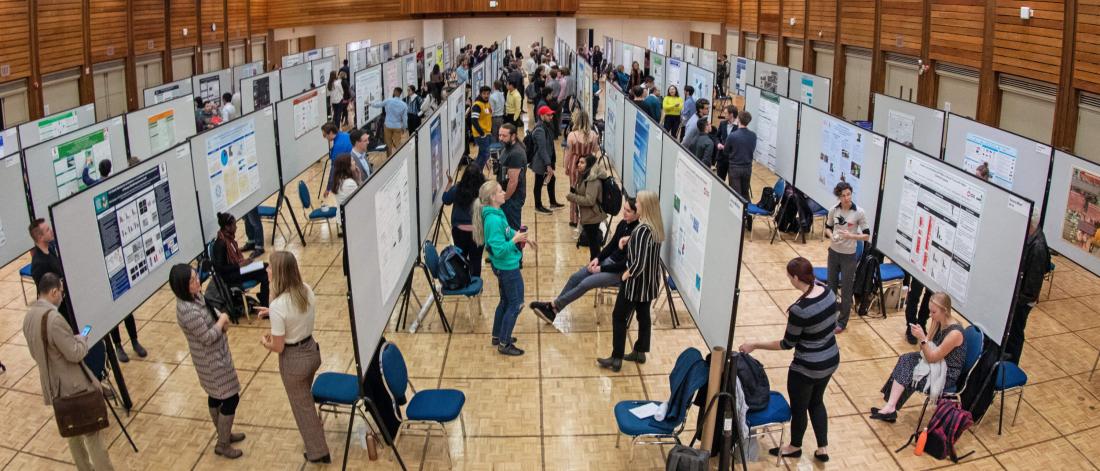 Info, dates and deadlines
An online poster competition format is being planned. Check this page in early September 2020 for further information on the format, dates and deadlines.
Poster criteria: How the judges will decide
The judges will be evaluating your posters on the following criteria:
Criteria
Points
Scholarly Content/ Scientific/Creative Content
25 Points
Appropriate use of images, graphic representation, and/or tables
10 Points
For Non-Creative Works (Natural Sciences, Health Sciences, Applied Sciences, Social Sciences and Humanities): Appropriateness of headings, clear objectives and conclusions.
For Creative Works: Clear description/explanation of creative process, identification of issue explored and learning that resulted from the creative project.
25 Points
Overall impression and significance of research
25 Points
Effective communication to the audience through written or visual language that avoids the use of jargon
15 Points
Total
100 Points
FAQs
I am now in a Master's program at UM. Can I submit a poster I completed before I graduated?
YES. As long as you were a UMundergraduate student and the poster was completed on/before you graduated in spring 2020.
I am a UM student doing research at another university – am I still eligible to participate in the competition?
Could I submit a poster for a project that isn't completed yet?
YES. We don't want to discourage you, so if you are comfortable entering the competition with uncompleted work, we will accept the poster.
I did a project this summer with a company where I worked. Could I present the research work I did with them at this competition?
YES. As long as you are currently enrolled as an undergraduate student and you have a UM advisor, we will accept the poster.
This summer I participated in a project with many people working on it. Should my poster demonstrate the entirety of the project or just my contribution as a research assistant?
Preferably, you should be the first author of the research on the poster. A disclaimer is highly recommended. You need to be able to identify your role in the context of the larger project. Also, you must contact the others involved for their permission should you present the entirety of the project.
How do I know which category my poster will fall under?
You should check with your research advisor.
You may also be interested in
For more information contact
Office of the Vice-President (Research and International)