Jay Gamey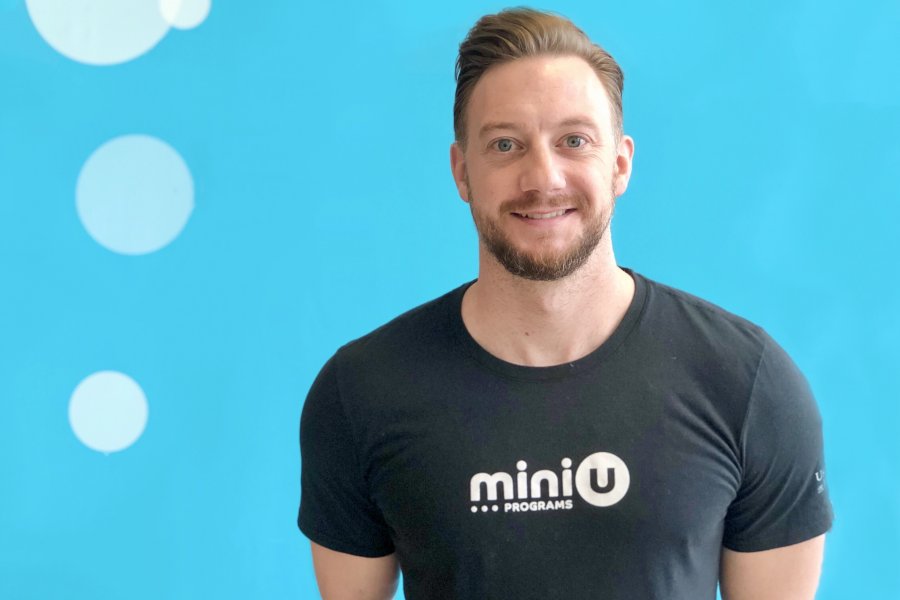 Learn more about Jay
What do you enjoy most about Mini U?
The environment is diverse, vibrant and inspiring. One of the best things about Mini U is the strength of the team. Everyone has a clear role, is given the space to be independent but has the support of the group being by your side. 
I am lucky to be able to work in such a fun and positive working environment. Together we work to create positive experiences for participants, families and employees. I feel fortunate to be able to contribute.
When did you start working with the programs?
My first year with the programs was in 2002 working as a group leader. I loved it so much I never wanted to leave and did everything I could to make that happen. 
Over the years I have had experience leading recreation and classroom activities as well as individuals with special needs. From there I spent a year and a half as a Program Supervisor before taking the Sport Program Coordinator position in 2006. In 2009 I began my current role as the Director.
What experience do you have leading children's programming?
During my time with Mini U I have had the opportunity to implement many new programs, services, experiences and systems within the programs. Early on in my leadership role we established curriculums, lesson plans and learning outcomes for all programs. In 2011 a leadership model and development strategy were introduced and have since been integrated into all aspects of the Mini U experience. 
The Mini U experience was reimagined in 2014. The programs now include unique activities, programs, leadership opportunities and experiences for our 3 age divisions. These features are designed to unlock opportunities within the program and engage participants as they grow. 
Our operation plans are integral to the success of the programs. New systems and processes are created on an ongoing basis to ensure we are delivering our optimal experience and ensuring the safety of our participants. Over the years we have implemented new mobile group lists and personal information management systems, camp scheduling, online registration, employee training and hiring processes.
What experiences do you hope to create for participants and leaders of the program?
Growing up I was lucky enough to have had coaches and teachers who created moments for me that eventually had a positive impact on my life. As the director my goal has been to build an environment where leaders create opportunities and memorable moments for others.
Our participants and leaders have such unique and diverse backgrounds. We want to ensure people feel welcomed, supported in being themselves and encouraged to learn from our difference. 
In many ways, Mini U has been education. The environment continues to help me develop skills as a professional and leader. My hope is that I can help our team of leaders gain as much value form their time with the program as I have. 
What do you enjoy most about leading at Mini U?
My role is to allow others to be successful in what they do. I enjoy watching leaders grow and develop while offering support and guidance along their pursuit of success. Helping people help others is a unique opportunity.
What is your favourite activity at Mini U?
I love activities that allow teams to work together. Drive'n'Dunk and spike ball are a couple of my favourites.
Ashley Gagnon M.PT., B.Kin. (AT), B.A.
Learn more about Ashley
What do you enjoy most about Mini U?
The opportunity for collaborative work. The capacity of our team is outstanding.  I feel so lucky to be surrounded by a passionate, energetic, and engaged team. Every problem is solvable and project possible when you have the support of such a hardworking and determined group of people working collaboratively. Each team member is celebrated for their uniqueness and how their individual experiences can positively influence our work. To be able to work with a large group of people with the same inevitable goal of creating positive experiences for our staff and customers is so special. 
When did you start working with the programs?
My first year with the programs was in 2006 as a Program Supervisor. I grew up outside of Winnipeg and prior to my first day, my only experience with Mini U had been from a distance. I remember seeing groups of campers and leaders enjoying games in green spaces on campus and thinking that it would be a fun summer job. I had no idea of the impact the programs would have on my career. I was immediately welcomed into the Mini U family and have been lucky enough to call it my home since that time.  
I spent three summers as a Program Supervisor, and began in my current role in 2010 (with a short hiatus since that time for Graduate School). 
What experience do you have leading children's programming?
I grew up leading children's programming. My time teaching dance and swimming lessons inspired me to a pursue a career that included influencing opportunities for young people to be physically active. It was in pursuit of this passion that I was drawn to Mini U.
It is the opportunities I have had to influence the integration of our Aquatics area that I am most proud of. Although once felt to be separate, we have aimed to streamline the experience of our Fall/Winter/Spring Aquatics customers to align with that of our summer camp participants. We have aligned our staff recruitment, hiring, training, and expectations with that of all Mini U staff. Our Lifeguards and Swim leaders are now as much a part of the larger Mini U team as leaders in other positions. 
What experiences do you hope to create for participants and leaders of the program?
I hope that I can help to create an environment where people are reminded of their strengths, feel appreciated for their efforts and are given opportunities to challenge themselves in ways that are meaningful to them. I hope that our participants and leaders will have the confidence to try new things and release any expectations of perfection in favor of expecting "failure" and treating it as an opportunity to learn. 
What do you enjoy most about leading at Mini U?
I love the diversity of my position. From trying to create fun and engaging games for a training session of 200 leaders, to assisting a young camper in understanding the consequences of their actions, to brainstorming the logistics for changes to part of our operational procedures, no two days are the same.
What is your favorite activity at Mini U?
I love our activity packages that are not based on mainstream team sports (Kinect-4 will always be a favorite!). It was Mini U that taught me that there are so many activities that I could participate in as part of a team that aren't the ones I learnt in gym class as a child.  I think exposure to such a broad range of activities can create such valuable opportunities for our campers. Lifelong physical activity is so important and finding something that we enjoy and which allows us to feel successful is such an important part of that journey.