Science Innovation & Entrepreneurship workshop series
Our workshops and info sessions are designed for researchers and students in the Faculty of Science to discover opportunities, access funding, and receive expert guidance to take the next steps toward research commercialization, industrial partnerships, and entrepreneurship.
We offer programming for researchers and students at every stage in the continuum.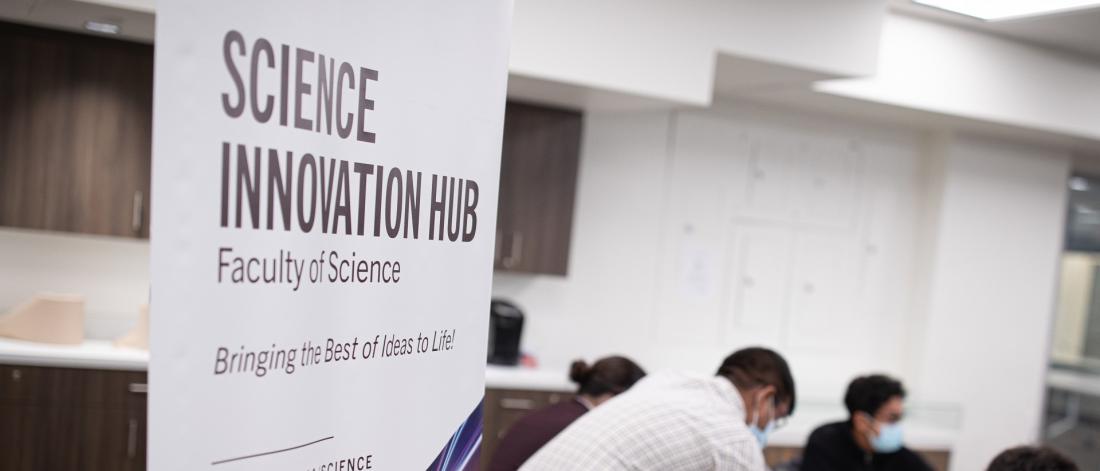 Upcoming workshops and info sessions
Science Research Innovation & Commercialization workshop
Date: Wednesday, January 25, 2 - 4 pm, W230, Eureka Centre, Duff Roblin Building. Register
Should you protect your IP? Is your invention patentable? Could industrial partnerships and innovation funding lead to commercialization and real-world application of your research?
This interactive workshop will provide Faculty of Science researchers and their graduate students with information on resources, funding, and support to explore applied research innovation, IP protection, patenting, and commercialization.
Learn about the services and support offered by UM's Partnerships and Innovation Office and the Science Innovation Hub in the Faculty of Science. 

Hear from industry mentors who have patented in fields as distinct as Life Sciences and Tech.
Discover programs and supports available give you the funding and resources you need to pursue your next steps to research innovation & commercialization.
Discover programs, support, and funding available to your graduate students & postdocs
This session will include information about the Faculty of Science Research Innovation and Commercialization grant opportunity and steps to apply.
Research Innovation and Commercialization Grant info session
Date: Thursday, February 16, 2 - 3 pm
The Faculty of Science has invested in a funding opportunity for faculty members in the Faculty of Science wishing to take next steps toward concept development for commercialization of research. Attend this session to learn more about this internal grant.
Indigenous entrepreneurship in science
Date: July 26, 2023
Presented by Science Innovation Hub in partnership with the Wawatay program. 
Open to all Science students.
Join us for speakers, an informal interactive workshop, and a panel discussion.
Pitch Bootcamp for Science Spark Innovation & Entrepreneurship Pitch Competition participants
Date: Monday, March 13, 2 - 3 p.m. or Thursday, March 16, 11 a.m. - 12 p.m.
Please note: This bootcamp is to prepare students to pitch at the March 29 internal mini-pitch competition. The March 29 mini-pitch competition will determine the finalists who will go forward to pitch at the Science Innovation Showcase on May 4, 2023 to compete for the Science Spark Innovation & Entrepreneurship Prize. The March 29 mini-pitch competition will determine the finalists who will pitch for the grand prize at the May 4 Science Innovation Showcase event.
Access industry partnerships and funding
Date: Thursday, June 15, 2-3:30 p.m.
A workshop designed for researchers in the Faculty of Science to discover proven strategies to develop and enhance industry partnerships to support your research program. Learn more about types of partnerships and the benefits of the various types, as well as strategies to maximize industrial funding programs.
Past workshops
Science Entrepreneurial Mindset Engagement Session
Date: Thursday, October 25 from 10:30 am - 12:30 pm, W230 Duff Roblin Building.
What makes up an 'Entrepreneurial Mindset'? How can this mindset benefit you throughout your studies and beyond even if you never form a company?
This session provided attendees with information about key resources, courses, new opportunities, and training they can access via the Science Innovation Hub and other UM offerings.