PIKE-Net research mentorship program
The Prairie Indigenous Knowledge Exchange (PIKE-Net) is a membership program dedicated to expanding the pool of Indigenous health researchers working in the academy and communities.
PIKE-Net will further contribute to the development of a sustainable and collaborative research environment among First Nations, Métis and Inuit communities; post-secondary institutions and national/international linkages developed under the Aboriginal Capacity and Developmental Research Environments/Network Environments for Aboriginal Health Research.
Funded through the Canadian Institutes of Health Research—Institute of Aboriginal Peoples Health, the PIKE-Net program connects First Nations, Métis and Inuit communities with researchers at the provinces universities; and supports health research capacity building for students and community researchers.
Program details
Program objectives
To increase mentorship opportunities for First Nations, Métis and Inuit trainees and new investigators through networking.
To increase mentorship opportunities and collaborations with regions across Canada's North.
To address recruitment, retention, and representation of First Nations, Métis and Inuit trainees and new investigators.
To create mechanisms within mentorship networks that support trainees and new investigators throughout the different states of their training and career.
To ensure the inclusion of cultural practices and attention to the psychosocial needs of trainees in Indigenous mentorship network programs.
To identify systemic and individual barriers hindering First Nations, Métis and Inuit trainees and new investigators from becoming full-tenured faculty members or nominated principal investigators driving the Indigenous health research agenda, for example, and developing strategies for overcoming barriers.
Building student research networks
Since 2001, the CIHR-funded ACADRE-NEAHR program at the University of Manitoba has supported the development of a new generation of health researchers. Under PIKE-Net the centre, in collaboration with our partnering universities and organizations, will continue to help build research capacity in Manitoba while fostering linkages in the field of Indigenous health.
Opportunities for students
We offer a variety of supports and opportunities for undergraduate and graduate students who are interested in Indigenous health.
Summer research internships
Our internship program allows students to explore Indigenous health issues through hands-on research experience under the direction of faculty members and community-based researchers. Undergraduate and graduate students are selected for the program during an annual competition each spring.
Graduate student fellowships
Graduate students at the master's and PhD level may apply for one-year fellowships to help support their studies in Indigenous health. Applications are open to part-time and full-time graduate students in all faculties/programs researching Indigenous health.
Priority is given to students enrolled in Manitoba programs and/or students whose research is primarily based in Manitoba or neighbouring communities in Nunavut.
Successful applicants must adhere to the Canadian Institute of Health Research guidelines regarding employment and holding concurrent fellowships/awards.
Value of funding for master's students:
$17,000 full-time
$8,500 part-time
Value of funding for PhD students:
$20,000 full-time
$10,000 part-time
Award enhancements for students holding other major fellowships (e.g., CIHR, SSHRC) are also available (maximum of $3,000).
Post-doctoral and new investigator support
The PIKE-Net program helps support new faculty and recent doctoral graduates as they establish their research careers.
Summer institutes
Building on the legacy of the ACADRE-NEAHR program, a two-day annual mentorship institute will be held at the end of August, hosted by one partner universities, on rotation. This symposium will bring mentors and mentees from both PIKE-Net and QESP programs, to discuss issues of common interest or concern and develop new or expand existing skills.
As part of this institute, program mentors will present on topics related to skill building for mentees at all academic levels. For example, how to do a literature review for undergraduate students or grant writing for post docs and new investigators. In addition, mentees will have the opportunity to present their work and receive feedback from mentors, fellow mentees and community members.
These presentations will also be video-linked with international partners from the QESP and/or taped for later viewing.
Become a mentor
Is your department or organization interested in hosting a post-secondary student for an internship in research this summer? PIKE-Net is seeking mentors to support Indigenous undergraduate students for our  13-week Summer Research Internships program. 
Project mentors are responsible for providing student interns with space and access to any supplies or equipment that are necessary to complete the internship project. Any project cost (e.g., travel, supplies and equipment) must be provided by the project/organization hosting the student.
While there is no guarantee a student can/will be matched to the mentor project, mentors can let us know if they would like to offer the position for future PIKE-Net scholars.
View the mentorship guidebook (PDF)
Please note: the 2021 registration deadline has passed.
Our partners
We are a group of community- and university-based Indigenous and ally scholars and leaders from a consortium of three Indigenous organizations and four universities in Manitoba, all committed to improving access to meaningful university-based opportunities to First Nation, Métis and Inuit trainees.
Our logo
About the logo
Symbol: The cyclic form of the symbol plays on the cycle of life and is representative of Indigenous views.
Pike: Pike fish are known for their aggressive behaviour however, for this symbol, it was important to capture specific features of the fish without focusing on its aggressive characteristics such as its teeth. In this way, the pike fish is represented for its beauty. Moreover, the pike fish was specifically selected to represent this project for two reasons: firstly, because the letters that make up the word pike presents a fitting acronym for the project. Secondly, pike fish are Indigenous to Manitoba.
Jack pine tree and northern star: The jack-pine tree and star are representative of Northern communities, who in collaboration with CAHR, have partnered together on the PIKE-Net project. I have drawn branches on only one side of the tree because in winter, the tree naturally bends from the northern winds.
River: The river represents the importance of water systems, which is a perfect example of how people travelled and connected throughout the prairies.
Horizon: The straight line of the horizon represents the prairies – flat.
Colours: The three colours utilized represent the three biospheres of the planet. Light green represents earth, light blue represents the sky, and dark blue represents water. These three biospheres are in constant connection and exchange in order to sustain life on earth.
Repetition of three: The representational lines of three found in the fins, gills, teeth, river and tree are symbolic of the three Indigenous nations in Canada: First Nations, Métis and Inuit.
Organic style: It is important that the lines within the symbol remain organic, which is to say, uneven. The unevenness of the lines is purposefully drawn in order to avoid a mechanical or inorganic structure. But perhaps more importantly, realistically the work of Creator as seen in the make-up of the earth are not composed of straight lines rather a compilation of fluid lines which is why the belly and spine are unsymmetrical.
Monochrome colour: The monochrome colour allows for the symbol to transition between black and white or any other preferred colour.
About the artist
My name is Clark Morrissett, and I am a proud Cree-Métis man. I was born and raised in Winnipeg, Manitoba by my beloved parents Lorraine and Clark. I have a bachelor's degree in fine arts from the University of Manitoba, which is where I discovered and took great interest in becoming a lifelong student of various mediums including oil paints, conte and charcoal.
I draw inspiration from both classical and contemporary artists throughout the world. In particular, trailblazing Indigenous artists such as Norval Morrisseau and Alex Janvier, both of them with their individual styles and techniques to express the spiritual life-force of their cultures, and Jackson Pollock who radically introduced abstract expressionism.
For me, the conversation which exists from brush to canvass begins with the strokes of fast and loose markings – as do conversations flow – so too does the paint. Although at times I nurture traditional techniques, I constantly question and experiment with new ways to express myself, to create my own mark through various forms and styles within contemporary Indigenous art.
I do not believe that an end-goal exists for my art; rather, it continuously evolves as does my understanding of who I am is un-layered. I continue to produce artistic work for organizations who value contemporary Indigenous art.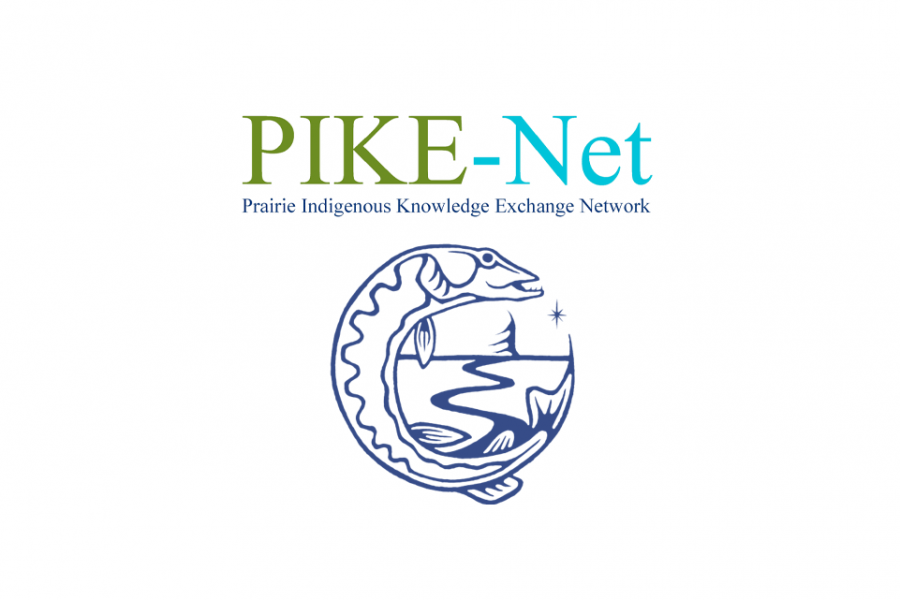 Contact us
PIKE-Net
Room 715K, 727 McDermot Avenue
University of Manitoba
Winnipeg, MB R3E 3P5 Canada