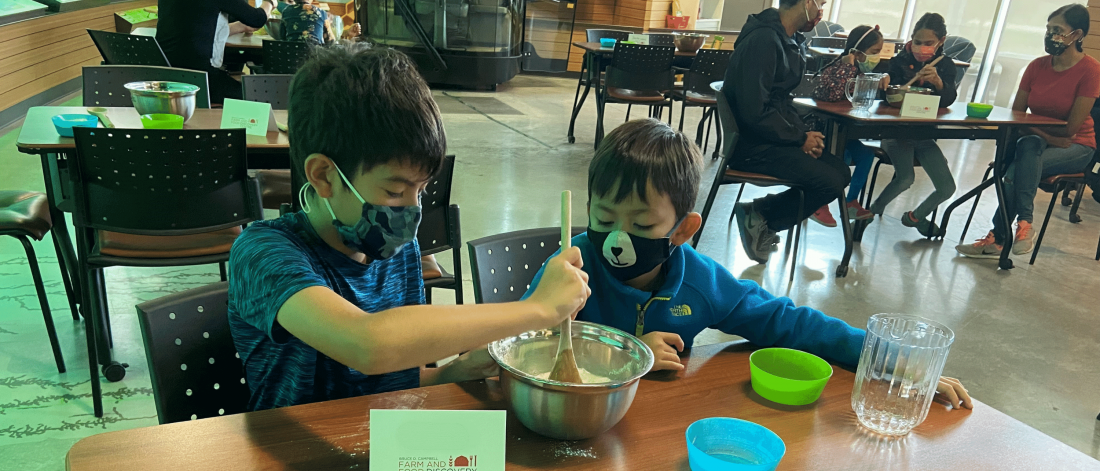 At the Farm and Food Discovery Centre, we take the safety of our patrons, community and staff incredibly seriously. We are doing everything we can to ensure you have a wonderful and most importantly safe experience while visiting our facilities.
Safety measures in effect
As per current Province of Manitoba and/or University of Manitoba COVID-19 protocol, the following procedures are in effect:
Proof of vaccination is required for all eligible guests (born on or before December 31, 2009)

Please bring a piece of photo ID along with your QR code
Children before on January 1, 2010 or later can enter when accompanied by fully vaccinated adults

3-Ply masks are mandatory while inside the buildings for everyone ages 5yrs+
Bookings are limited to 50% capacity
Visits are by appointment only - no drop-ins at this time
Physical distancing measures are in effect and enforced
Patrons and staff must answer our COVID-19 Health Screening Questionnaire prior to entry. They may only enter if they have answered "no" to all questions. See screening questions below
Touch surfaces are sanitized prior to each booking
Some high touch displays that we are unable to effectively sanitize are closed
Limited hours
To allow for effective cleaning and sanitization between groups, we are only taking booking for the following times:
Programs/Field Trips: 10:00 am - 2:00 pm
Tours/Visits: 10:00 - 11:30 am, 12:00 - 1:30 pm or 2:00 - 3:30 pm
Birthday Parties: 10:00 am - 1:30 pm or 11:00 am - 2:30 pm
Meetings: 10:00 am - 3:00 pm
Inquire with us directly if you'd like to request a start time not listed above. 
COVID-19 health screening questions
Prior to entering FFDC, you must review and answer the following screening questions for you and everyone in your household.
Health Survey
Please read the following health-related questions for you and everyone in your party:
Do you have any of the following symptoms: severe difficulty breathing (e.g. struggling for each breath, speaking in single words), chest pain, confusion, extreme drowsiness or loss of consciousness?
Do you have shortness of breath at rest or difficulty breathing when lying down?
Do you have a new onset of any of the following symptoms: fever/chills, cough, sore throat/hoarse voice, shortness of breath, loss of taste or smell, vomiting, or diarrhea for more than 24 hours?
Do you have a new onset of 2 or more OR a worsening of any 1 of the following symptoms: runny nose, muscles aches, fatigue, conjunctivitis (pink eye), headache, skin rash of unknown cause, or nausea or loss of appetite?
Contact & Travel History
Please read the following contact and travel related questions you and everyone in your party:
Have you been in contact in the last 14 days with someone that is confirmed to have COVID-19 or is a member of your household sick with COVID-19 symptoms but without knowledge of exposure to COVID-19?
Have you been in a setting in the last 14 days that has been identified as a risk for acquiring COVID-19 such as on a flight, in a workplace or community with a cluster of cases, or at an event?
Have you received a notification on the COVID Alert app that you may have been exposed to COVID-19?
Has a member of your household been identified as a close-contact and instructed to self-isolate by public health officials, and they are not able to isolate from you?
Are you over the age of 12 years and NOT fully vaccinated?

If you answered NO to all above questions, you may enter the
Bruce D. Campbell Farm and Food Discovery Centre.