CanTEST
The English Language Centre is an official testing site for the Canadian Test of English for Scholars and Trainees (CanTEST).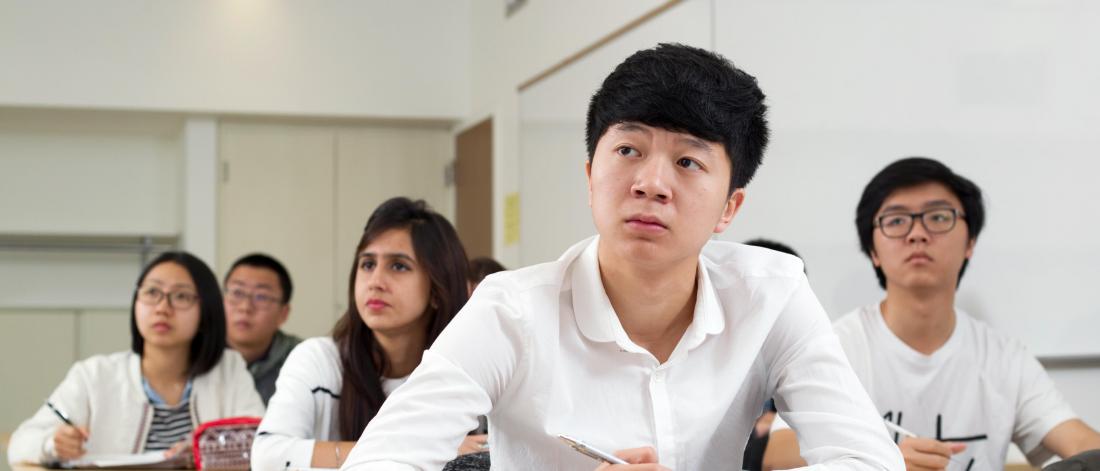 Due to Covid-19, The English Language Centre will not be offering CanTEST until further notice
What is the CanTEST?
The CanTEST is a standardized evaluation used by universities and professional organizations to determine whether candidates have sufficient knowledge and skills in reading, writing, listening and speaking English:
The listening test involves answering multiple choice or short answer questions based on audio samples such as dialogues, announcements, interviews and short lectures.
The reading test includes a "skimming and scanning" component, which requires answering 15 questions based on a written text within a short timeframe, a "reading comprehension" component, based on passages of varying lengths, and a fill-in-the-blank multiple choice section.
The writing task varies, but candidates are typically required to produce a writing sample that compares, contrasts or responds to information given on a current topic of interest.
The speaking test is a 15-minute interview with two judges in which candidates are evaluated on the basis of comprehension, pronunciation, fluency, and range and accuracy of language used.
Some organizations only require candidates to take the speaking test, while others require only the listening, reading and writing tests. 
Practice tests
If you would like to make sure you are ready for the official CanTEST evaluation, you can purchase a practice test by contacting our office at elc@umanitoba.ca. The practice test will give you an opportunity to familiarize yourself with the format of the CanTEST, the type of questions and the speed of delivery on the listening test.
The CanTEST Information and Practice Test (66 pages) costs $30.00 and includes test strategy information, a full listening test including audio CD, a full skim and scan test, a full reading comprehension test including cloze (fill-in-the-blank) test and an answer key. 
The Cloze Test Practice Book (26 pages) costs $12.00 and includes information about the test, 10 practice cloze (fill-in-the-blank) tests and an answer key.
Scoring and evaluation
Within ten working days of the test session you attend, you will be sent an unofficial score report by email. Your score report will tell you which general skill area you need improvement in, but your graded test will not be returned to you. Scores are reported in each of the four skills using a "band system" that relates test scores to a descriptive statement about your ability: 
5+: Fluent user
Consistently effective, fully operational command of the language in demanding familiar and unfamiliar contexts of language use, with full comprehension. No language problems that would impede academic success. An exceptional score awarded when a candidate exceeds the minimum for Band 5 in all skills tested.
5: Very good user
Very good command of the language in most demanding contexts of language use, especially in area of expertise, with a high degree of comprehension. Only occasional unsystematic inaccuracies and inappropriacies in communication with misunderstandings in some unfamiliar situations, which very rarely impede communication. Level of proficiency considered adequate for full time academic study.
4: Competent user
Generally effective command of the language in fairly demanding contexts, especially in area of expertise, with a satisfactory level of comprehension. Some inaccuracies, inappropriacies and misunderstandings in less familiar contexts with more complex language. This level of proficiency in a skill area indicates some weaknesses which sometimes impede communication, and could affect performance in an academic program. Additional language training would be helpful to improve overall speed and accuracy.
3: Limited user
Fair command of the language only in moderately demanding language contexts or in interactions with a sympathetic speaker, with limited comprehension. Markedly reduced effectiveness in demanding or unfamiliar situations. The number of systematic inaccuracies and misunderstandings significantly impedes communication and comprehension. Definitely requires additional language training before being considered for academic placement.
2: Very basic user
Some ability to function in highly contextualized, familiar situations, but no real command of the language. Frequent systematic errors, and misunderstandings seriously impede communication, leading to frequent breakdowns in communication.
1: Novice
Extremely limited command of the language, with the user limited to handling basic communicative needs.
Most Canadian universities require an average of 4.5 with no category lower than a 4.0. Some professional organizations and some faculties such as Education and Law require higher scores.
Upon request, official score reports can be sent directly to the university or institution you specified at the time of registration for a fee. If you would like your results sent to more than one institution, you must complete the Request for an Official CanTEST Score Report (PDF) and submit it to our office along with payment.
If you wish to have your test scores re-evaluated, you must submit the test re-evaluation request form (PDF) along with payment within 20 business days of the test. If your score is changed as a result of the re-evaluation request, you will receive a refund of the re-evaluation fee. Please note that the re-evaluation process may result in an increase or decrease in score.
Rewriting tests
Candidates are required to wait three months before taking the CanTEST Listening Comprehension and Reading Comprehension components again. The waiting period for the writing and speaking components is six full weeks. This policy applies to all CanTEST Test Centres.
Candidates whose Reading and Listening scores meet the requirements of the receiving institution may register separately for the Writing or Speaking components of the test. Candidates who meet the Writing score requirements of the receiving institution but do not meet the requirements in Listening or Reading must take all three components (listening, reading and writing) at the next scheduled test session they are eligible to attend.
Testing fees
The following fees apply to CanTEST evaluations and services at the English Language Centre. Fees are subject to change without notice.
| | |
| --- | --- |
| Basic test (Listening, reading and writing) | $140.00 |
| Full test (Listening, reading, writing and speaking) | $200.00 |
| Speaking test only | $60.00 |
| Writing test only | $60.00 |
| CanTEST information and practice test | $30.00 |
| Cloze test practice book | $12.00 |
| Official CanTEST score report | $15.00 |
| Re-evaluation of writing and speaking tests | $30.00 |
| Re-evaluation of listening and reading tests | $15.00 |
Test day information
On the day of your test, you must bring your CanTEST registration receipt and government-issued photo Identification that clearly states your name and date of birth. You can only bring a pencil, your photo ID and a transparent water bottle to your desk. Coats, bags, watches and electronics must be left in the designated area. Your items will be locked up and supervised during the test, however the English Language Centre is not responsible for any lost or stolen items.
The test day begins at 8:30 a.m. and lasts three and a half to four hours, with one or two short breaks. The oral interview component lasts about 15-20 minutes per candidate and will usually be scheduled between 12:30 p.m. and 4:30 p.m. Candidates who are registered for oral interviews will be notified of their test times at least one week before the test date.
How to register
To register for the CanTEST, you must submit a completed registration form (PDF), along with payment, at least ten business days before the test day. The English Language Centre reserves the right to close registration before this deadline if a session is full.
The completed registration form must be signed by hand. If you fill out the form digitally, you must print it in order to provide your signature. To submit the registration form, scan it and email it to elc@umanitoba.ca, or submit a hard copy in person or by mail to:
English Language Centre
520 University Centre
65 Chancellors Circle
University of Manitoba (Fort Garry campus)
Winnipeg, MB  R3T 2N2
Canada
Cancellation policy
Candidates who cancel before the registration deadline (ten business days before the test) will be charged a $50.00 cancellation fee. The remainder of the test fees will be refunded. Candidates who cancel after the registration deadline (less than ten business days before the test) will not receive a refund. Candidates who do not attend their scheduled test will forfeit all test fees. Registration cannot be transferred to a different test date or to another candidate. All cancellations must be submitted in writing to elc@umanitoba.ca.
Contact us
English Language Centre
520 University Centre
65 Chancellors Circle
University of Manitoba (Fort Garry campus)
Winnipeg, Manitoba R3T 2N2
Canada