Be a good Bison! Mask up to protect our community. Sick? Don't roam, stay home.
The University of Manitoba is committed to supporting the academic success, health and well-being of all students. This page is your gateway to the most up-to-date information for students on UM's COVID-19 response.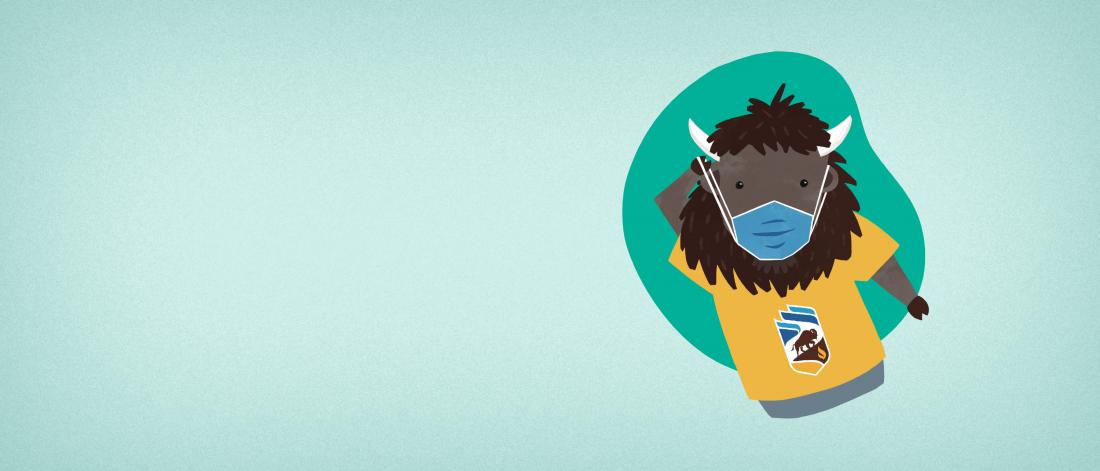 Be a good Bison! Mask up to protect our community. Sick? Don't roam, stay home.
Latest updates
Billy says: mask up to protect our community! Masks are required in all indoor spaces: KN95 are strongly recommended, but 3-ply medical ASTM Grade 2 are also acceptable. Students can pick up a mask at various locations across Fort Garry and Bannatyne campuses until September 16 and at any UM Library or the UMSU Service Centre after that. Visit the health and safety website for distribution locations and hours.

Instructors who are approximately 2 metres away from others while actively teaching a class may choose to remove their mask.

Masks are not required outdoors.

Sick? Don't roam, stay home. Please stay home if you are sick. Work with your instructors to make reasonable arrangements. Check Resources to learn what you should do if you need to miss class due to illness.
Mobile vaccine clinics with flu and COVID-19 vaccines are coming to UM campuses from 11 a.m. to 3 p.m. on Tuesday, Nov. 29 (Fort Garry) and Thursday, Dec. 1 (Bannatyne).
Book your COVID-19 booster
All adults (age 18+) can receive a booster shot (third dose) of a COVID-19 vaccine and it is strongly recommended to receive your booster as soon as you are eligible. Boosters are available at any location that offers the COVID-19 vaccine. A shorter timeline is recommended for some groups. Visit the Province of Manitoba website for eligibility criteria and information on where to book a vaccine.
University Health Service is offering both Pfizer and Moderna boosters. Call 204-474-8411 to book an appointment.
For more information about vaccines, please visit our Vaccine Information page.
On-campus services
Study space
There are quiet group study spaces in all UM Libraries. Individual Faculties and programs may also set aside specific study spaces for students so please check with your faculty/program administrative office.
Food and coffee service
Check the status and hours of available food and coffee services on our Fort Garry and Bannatyne campuses.
Resources
UM is committed to supporting our students. Learn about resources available if you are experiencing health or financial issues, or looking for information to help you succeed and stay connected.
If you have to miss class due to illness
If you are unable to meet a course requirement due to medical circumstances, you will need to submit a Self-Declaration Form to your instructor. You are required to contact your instructor or academic advisor by email to submit the Form, inform them of the absence, and to make arrangements for extensions, deferrals, or make-up assignments. 
Please follow these guidelines if you are unable to meet an academic requirement for your courses:
Inform your instructor/advisor as soon as possible. Do not delay. Note for final exams: you must contact within 48 hours of the date of the final exam.
Contact your instructor for term work such as a class, quiz, midterm/test, assignment, lab;
Contact an advisor in your faculty/college/school of registration for a missed final exam (scheduled by the Registrar's Office, during the official exam period).
Access to health care for international students
Any international student who is registered at the University of Manitoba will be covered by the Manitoba International Student Health Plan (MISHP). This includes degree-seeking students, English Language Centre program students, and those in Extended Education certificate programs.
MISHP provides you with primary health coverage, which allows you to access medical services in Canada from doctors, clinics and hospitals. To find out where to go for the health issue you are experiencing, visit myrightcare.ca or mishp.ca.
For eligible international students covered by MISHP who are required to be tested for COVID-19 in approved testing sites, the medical expenses incurred for testing will be covered under your plan. For more information, please visit mishp.ca.
Please note that newly enrolled international students are covered on an emergency basis for up to one (1) calendar month prior to the start of their first academic term. During this period, medical treatment and testing for COVID-19 will only be covered if symptoms began after departure from your home country.
Food security
If you need to visit a food bank during your time at UM, here are some options available to you.
If you live outside the city of Winnipeg check out Food Banks Canada to find Food Banks located near you.
UM Foodbank
UM Foodbank is open for in-person service. Please visit the Financial Aid and Awards Office in room 422 UMSU University Centre and bring your UM student ID to access the Food Bank services.
---
Harvest Manitoba
Harvest Manitoba, (formerly Winnipeg Harvest) is another food bank option. You can request help online or by phone.
---
Agape Table
Agape Table provides free or low-cost bagged breakfasts and distributes hampers on behalf of Harvest Manitoba.
364 Furby Street
204-786-2370
---
Oak Table
Oak Table provides free lunch service.
109 Pulford Street
---
Ma Mawi Wi Chi Itata Centre Inc.
Ma Mawi Wi Chi Itata Centre Inc. has two locations (McGregor and Spence) and offers short-term quantities of food, basic sanitary necessities and baby supplies.
McGregor location contact: 204-925-0330 or 204-925-6816
Spence location contact: 204-925-0352 or 204-925-0348
Updates from the Vice Provost (Students)