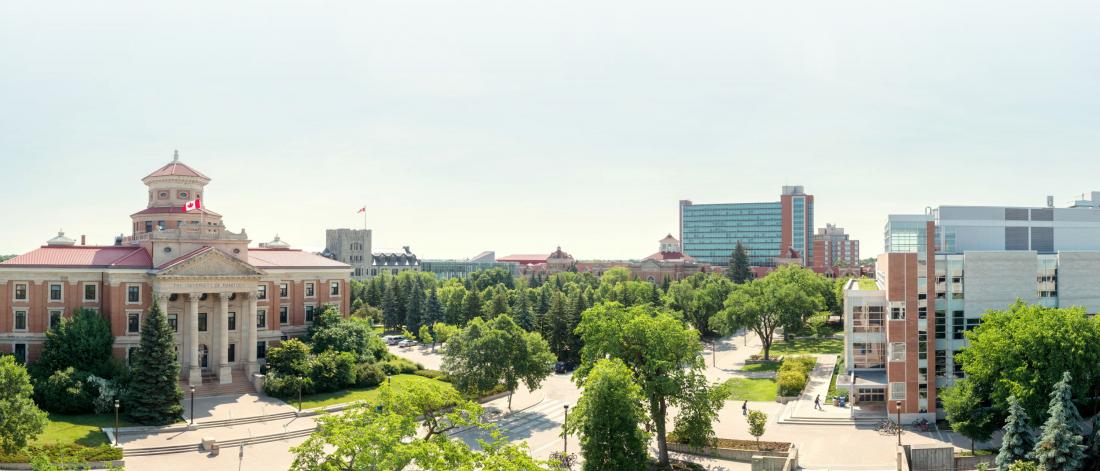 COVID-19 information for staff, faculty, and researchers
Latest updates
The University of Manitoba recently undertook Indoor Air Quality (IAQ) testing within a representative sample of learning spaces across the Fort Garry and Bannatyne campuses. Read more–including the full UM IAQ report–on the COVID-19 Health and Safety Protocols page.

The existing masking mandate continues for the Fall term, and until further notice.

Two adjustments have been made to the masking protocol beginning in Fall Term:

Instructors may choose to remove their mask when actively teaching, provided a 2m distance can be maintained from students.
Staff may remove their mask when seated at a cubicle-type workspace, provided there is a physical barrier to adjacent workers (e.g., cubicle partition) or a minimum of 2m separation from others.

As of May 4, UM no longer has a vaccination mandate. Instructors, staff, or administrators shall NOT confirm the vaccination or testing status of their students or employees.

We encourage students and staff to refer to the latest vaccination eligibility criteria (including for third and fourth booster doses) - it is strongly recommended to receive your booster as soon as you are eligible.
If you are feeling ill
If a student, faculty or staff member reports feeling unwell
They should be instructed to go home immediately or stay home and use the Shared Health Screening Tool or call 1-877-308-9038 to access the screening tool in an interactive voice response format.
You do not need to send out any communications on these matters. We must ensure we are handling personal health information with the utmost of care and that it is shared only on a need-to-know basis. If you have any questions/concerns, please reach out to your respective campus contact:
Fort Garry and William Norrie campuses
Karen Meelker
karen.meelker@umanitoba.ca
Bannatyne campus/College of Nursing
Raman Dhaliwal
raman.dhaliwal@umanitoba.ca
If a student, faculty or staff member tests positive for COVID-19
They should be instructed to self-isolate and follow the recommendations outlined in the Province's COVID-19 Information for Manitobans webpage.
Student illness accomodations
It is recommended that instructors provide reasonable accommodations to students where they may be absent from class, or multiple classes, due to illness or a requirement to self-isolate at home.
As a reminder, in March 2020, Senate Executive approved that students are not required to provide medical notes in support of short-term absences from class activities/requirements and from evaluations including final examinations. Students are required to self-declare through an email note to an advisor in the relevant faculty that they will be unable to meet their course obligations. This declaration will be treated as necessary and sufficient for the student to be afforded reasonable accommodation.
If an instructor is feeling unwell or tests positive
If the Screening Tool advises that you stay home, if you feel unwell, or if you are required to self-isolate, you should contact your Dean's Office to identify coverage options for the class.
If a backup is unavailable or cannot be retained for an extended period (if needed), the course may need to pivot temporarily to remote learning. Instructors should make students aware of this possibility at the start of a course so that students can be prepared to pivot should the need arise.
Instructors must contact their Dean/Director for more details on a possible need to temporarily pivot a course to remote teaching.
If a class needs to temporarily pivot to remote teaching, instructors are asked to provide students with the option of asynchronous lectures to accommodate potential changes in schedules. Please see the Centre for the Advancement of Teaching and Learning guide on how to record lectures in Zoom and Webex.
Information for Instructors
Below is a set of resources and best practices for in-person instruction for the Fall 2022 Term to help us prevent the spread of COVID-19 and maintain a safe environment. Note that the specific requirements and recommendations may change subject to changes in Public Health Orders and/or UM health and safety protocols.
Mask use
KN95 masks are highly recommended, but 3-ply medical masks (minimum ASTM Grade 2) are also acceptable.
Masks may be removed for brief periods to take in fluids. Instructors are asked to remind students of these requirements at the start of each class. An information slide on masking is available and it is recommended that you start each session with the slide.
Microphones and headset options are available to you as an instructor upon request. Please contact your unit head for information on how these can be secured.
Both mask types (KN95 and Level 2 medical masks) will be distributed by UM. Faculties and units will also have a supply of masks for employees. If you are coming to campus and do not have a required mask, you can wear your own cloth or 3-ply mask on campus while you go immediately to the closest mask pick-up location. After the initial mask pick-up, it's expected that employees and students will have a supply of the approved masks to wear, including when attending the distribution locations to access more masks.
Information on mask use and distribution can be found on the Health and Safety page. 
Non-compliance with masking
Instructors are asked to remind students of the masking requirement at the beginning of each class (see details above). If there is non-compliance, it is recommended that you pause the lecture (or other activity) and give a general reminder to the whole class that proper mask wearing is required and, if non-compliance continues, you will stop the lecture (or other activity) and contact security.
Security would attend for two purposes - to identify the individual(s) refusing to comply and to ask the individual(s) to apply their mask. No one will be physically restrained or removed during this process. Note that Security will call police if an individual is acting violently, as is normal procedure.
Campus Security Services can be reached by calling 555 from any university phone, #555 from Bell MTS or Rogers Wireless, and 204-474-9341 from all other phones.
If a student remains non-compliant after being asked to either wear the required mask or leave class, you should inform your unit head. Non-compliance and disruption of a lecture (or other academic activity) may result in an investigation under the Student Discipline Bylaw, as outlined in the Student Non-Academic Misconduct and Concerning Behaviour Procedure, and could result in a disciplinary action being imposed, as deemed appropriate by the disciplinary authority.
Course syllabus
You may wish to include statements on your course syllabus notifying students of the potential for a temporary pivot to online teaching, how they will be notified if a class is cancelled, and how students best self-declare medical absences for your course.
A sample COVID-19 syllabus insert is available for reference.
Class breaks
When offering students breaks during class, it is ideal to stagger these breaks so that not all students attend washroom facilities and other areas outside the classroom at the same time. This will help to limit overcrowding in smaller spaces.
Communication and signage
Policies and procedures related to COVID‐19 are available at: umanitoba.ca/coronavirus
COVID-19 posters will be found posted in buildings and classrooms to communicate key messages such as hand hygiene, and how to screen for symptoms.
Sharing equipment and materials
For classes where students must demonstrate skills or perform physical tasks and use supplied equipment, tools, or props, students should be encouraged to:
First wash or sanitize hands prior to task
Maintain physical distance during task, where possible
Wash or sanitize hands when task is complete
Students must bring their own personal pens/pencils, notebooks, etc.
information for Researchers
Public health guidelines surrounding research activities
Refer to the Latest COVID-19 Recovery Updates for current updates and news relevant to the UM community. Further information can be found on the COVID-19 webpage.
Research involving human participants
As the pandemic evolves, research protocols involving human subjects are no longer subject to review or approval through the COVID-19 Recovery Steering Committee (CRSC) process.
Researchers should resume previously approved studies or begin new studies with the understanding that pandemic restrictions are fluid and may change quickly. As such, human participant research could be halted again in the future, depending on the course of the pandemic and provincial restrictions.
Travel
Permission for university-related travel no longer requires Dean authorization as it relates to any COVID considerations. However, any pre-COVID permissions or processes remain in place. UM employees are advised to budget for unexpected delays in return-travel plans due to a possible positive COVID test. Any costs that result from testing positive for COVID-19 must be covered by the fund supporting the travel. Specifically, if travel is funded using an eligible grant, contract, or professional development fund, it would be prudent to ensure that sufficient funds are available to allow extra nights of food, lodging or other costs associated with changes to travel plans should such changes become necessary.
The COVID-19 pandemic has impacted our lives in various ways including the near-total elimination of travel. Pre-pandemic travel represented approximately seven per cent of UM's annual greenhouse gas emissions. The University's Office of Sustainability understands that the UM community has personal and professional interests across the globe but encourages a concerted effort by everyone to commit to reduced or alternative travel options as we move forward from the pandemic and transition to the UM carbon-neutral future of the university. UM actively supports the immediate need to take climate action.  As such we must be cognizant of how our business and travel decisions impact the university, our environment and the populations that live in the areas to which we travel.
Pandemic-related expenses for tri-agency funded research
Details on the funds provided by the Government of Canada through the tri-agencies, for tri-agency funded researchers who incurred pandemic-related expenses, are available from the individual agency websites. Each agency is administering their grant programs differently.
Remote working
Remote working equipment
Whenever possible, employees should use the equipment assigned to them by the University. University devices should not be shared with any other members of the household. You should ensure that screens are set to timeout after 15 minutes of inactivity, and you should lock your device when you leave your workspace.
It is understood that some employees may be using their own personal devices to work remotely. If using a personal device, ensure your anti-virus software is up to date. Employees will need to use VPN to access shared drives, home drives, and many software systems. Ensure you log out of all systems and close all documents when you take breaks or finish work for the day.  On personal devices ensure you close all internet browsers and clear internet caches after accessing university systems through web portals. 
Further information on how to protect and secure data from a technology perspective is available in IST's Working Remotely Guidelines.
Protecting privacy and confidentiality while working remotely
Staff must be careful when sharing workspace and technology with others, such as family members and roommates. Ideally, you should have a separate workspace that other members of the household do not access. Log out of all systems when not in use, and clear your workspace of any paper documents when not in use. Paper files should be held securely as possible and safely filed when not being used. 
Phone conversations and video conference calls should be conducted privately, away from other members of your household, to maintain the privacy of sensitive information and the confidentiality of business information. Wearing headphones can also help ensure that those around you can't overhear your conversation.  
When using software for online meetings, ensure that any workspace that is visible to meeting participants is clear of documents. If you are leading a meeting, and plan to share your screen, ensure you are logged out of all other systems and documents that are not required for the meeting to ensure you don't share any additional information.
Managing electronic records while working remotely
Where possible, information should be saved in the same place it was retrieved from. Electronic records should not be saved locally on a personally owned device, unless there is no other option for saving documents, including emailing them to yourself or supervisor for proper management. 
If you must store documents locally, you should maintain a log of the documents on your device and share regular updates with your supervisor. Any university records should be stored in a protected folder on your computer, and all documents should be password protected.   
You should ensure you also empty your recycle bin of deleted items daily. All documents must be transferred to university-maintained storage locations and systems at the earliest opportunity.
Managing paper records while working remotely
Paper records should be stored securely while offsite. Any destruction should wait until a return to campus. If you find yourself in an extraordinary situation regarding paper records, you may contact the Records Manager at fippa@umanitoba.ca for additional advice.
Claiming remote working expenses
The Federal Government has extended the "temporary flat rate method" to claim home office expenses for the calendar year 2021. The amount has also been increased from $400 in 2020 to $500 in 2021.
Employees have the option of using the "Temporary Flat Rate Method" or the "Detailed Method," which requires employees to track allowable expenses based on defined use-criteria and the employer to provide a T2200 Short Form (T2200S)
Individualized T2200S forms were distributed to all employees through VIP. Receipt of this form does not constitute eligibility. For more information, read the Update on T2200S form for employees working from home in 2020 on UM Today.
For more information on how to proceed with this, consult with a tax advisor or visit the CRA website.
Please note: UM employees cannot provide you with advice related to your personal income taxes; please consult with a tax advisor or accountant.
Determining what you can claim
Receiving this form does not mean you are eligible and should claim all expenses incurred while working from home. You should consult with a tax advisor or accountant to assist you with determining your eligibility for claiming expense while working from home.
If you were reimbursed by UM
All non-consumables purchased or reimbursed using UM funds remain University property. Please consult with a tax advisor or accountant to assist you with the preparation of your personal tax return.
You may also be looking for