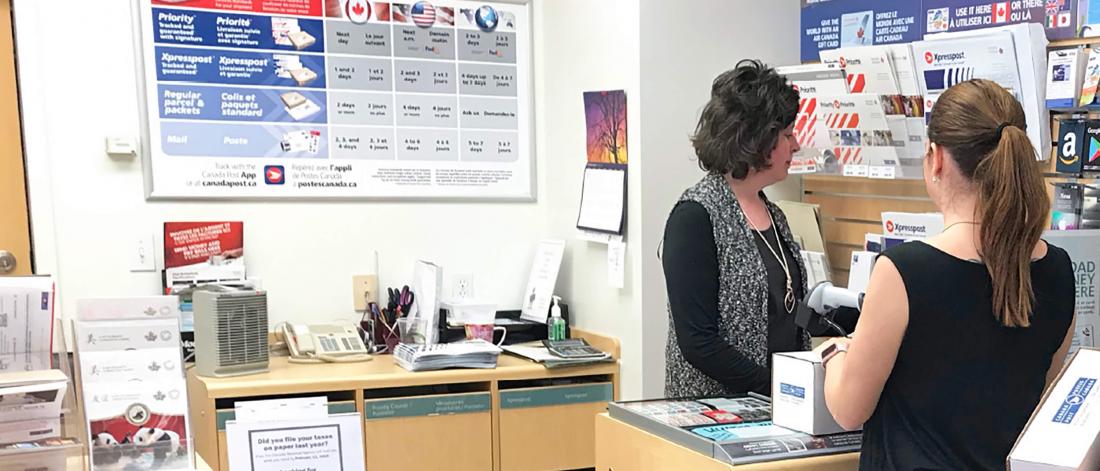 University Centre Postal Outlet
Hours of operation: Monday to Friday, 9 a.m. to 4 p.m.
Mail is picked up by Canada Post daily at 2:30 p.m.
Mailing and shipping products and services
Stamps: Domestic and International options available individually, by the sheet or by the roll. 
Mailing supplies: Envelopes, boxes, tape, bubble wrap and other packaging supplies.
Amazon FlexDelivery: Have your Amazon orders delivered directly to us if you won't be home to receive them.  
Originating prepaid items: Drop off a prepaid parcel or purchase a prepaid envelope.
Statements of Mailing: Pick up a summary of your mailing, including cost and dimensions of each piece. 
Inducting and scanning parcels paid for online: For example, eBay, Ship-in-a-Click, Express Order Entry and Electronic Shipping Tools.
Collector stamps and sets: Official Canada Post merchandise for the collector in your life.
Financial services
Money Orders: You can both buy and cash money orders here.
MoneyGram: Send or receive money from around the world.
Visa cards: Purchase a Visa prepaid gift card or fill a reloadable Visa card.
Additional services
As an official Canada Post outlet, we're your point of contact for many Federal government services, including: 
Revenue Canada forms and guides
Passport application forms
Proof-of-Identity with data transfer
BackCheck (criminal record check)
PIN card services (debit card PIN resets)
Change of Address
Hunting Permits
You may also be looking for
Contact us
University Centre Pharmacy
111 University Centre
65 Chancellors Circle
University of Manitoba (Fort Garry campus)
Winnipeg, MB  R3T 2N2
Monday to Friday, 9 a.m. to 4 p.m.