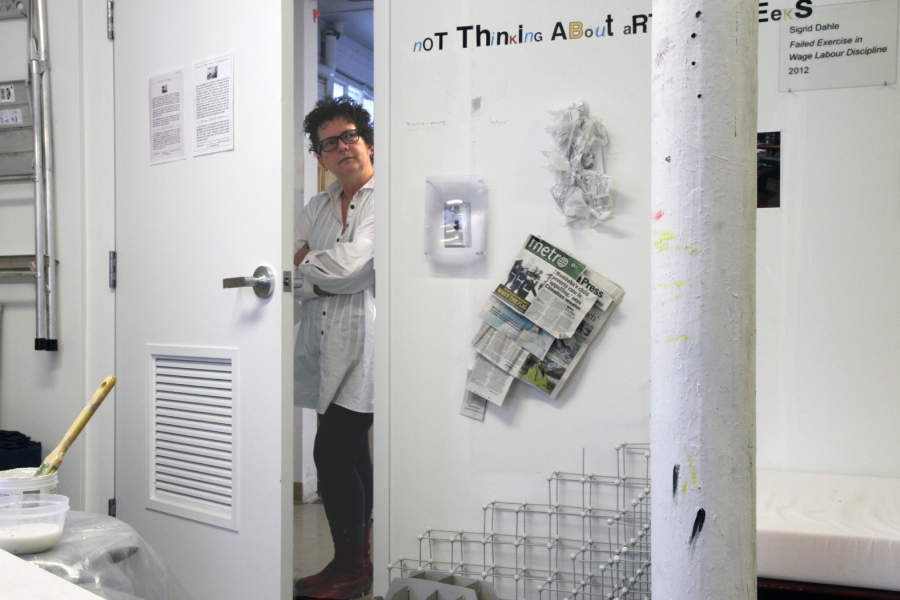 November 9, 2020
Sigrid Dahle, one of the most innovative curators, art writers and critics of her generation, certainly one of the most brilliant to have emerged from the Winnipeg art scene – in a tragic trick of fate – died on Halloween 2020 of complications related to the novel coronavirus.
Like many cultural workers in relatively small art communities such as Winnipeg's, Sigrid played many roles in a number of professional capacities and associations. Her close association with the School of Art, the School of Art Gallery, and the University of Manitoba over a 36-year period replicated this multiplicity of roles. She was variously, a student, contract worker, and employee.
After completing a BA in Psychology at the University of Alberta in Edmonton, Sigrid entered the School of Art's Art History program, completing her studies in 1986. She distinguished herself in several ways as a student, serving on the Gallery One One One (now the School of Art Gallery) Advisory Committee as Student Representative, and working as Curatorial Assistant to then-Gallery Director Grace Eiko Thomson, who introduced her to both curating and to pioneering Winnipeg artist and former School of Art Director, Lionel LeMoine FitzGerald.
In 1987, the year following her graduation, she curated two of her most important early exhibitions: Mary Scott: Textu(r)al Strategies, and A Multiplicity of Voices: Work by Manitoba Women Artists, a collaboration with Plug In. This landmark exhibition celebrated the extraordinary 1980s fluorescence of art by women, and included works by Eleanor Bond, Sheila Butler, Susan Chafe, Aganetha Dyck, Joanne Jackson Johnson, G.N. Louise Jonasson, Wanda Koop, Rosemary Kowalsky, Laura Letinsky, Kim Ouellette, Donnelly Smallwood, Reva Stone and School of Art Professor Diane Whitehouse to broad audiences The same year, on the strength of her curatorial projects, she was hired as the first Director-Curator at the newly established Art Gallery of Southwestern Manitoba, where she remained until 1990.
In 1997 she was contracted to curate an exhibition for Gallery One One One. The result was Muse Ecology: A Critical Selection of Works from the Collection, a project that addressed the legacy of L.L. FitzGerald at the School. Her early study of psychology led to a lifelong interest in the object relations theory of Melanie Klein and Donald Winnicott, which informed her intellectual frame of reference, including her analysis of FitzGerald and the School's past. She went on to organize a number of exhibitions for Gallery One One One, and was notably sought out by then-Gallery Director, the late Cliff Eyland, who had a sure eye for talent and intellectual virtuosity as Curator-in-Residence, a position she held from 2002 to 2004. While serving in this capacity, she did some of her most innovative work, notably curating Blind Spot: The Gothic Unconscious in which she traced the multiple layers of trauma experienced by Indigenous peoples, immigrants, workers, women,  and other marginalized people of The Red River/Winnipeg/Treaty One Territory going back to colonization and forward to present day.  Blind Spot predates much contemporary discourse on settler colonialism and subjectivity. Her other projects during this period included Trauerspiel, which featured work by Guy Maddin, L. B. Foote, and T. G. Hamilton, Das Cabinet des Dr. Jeanne Randolph, and Ghost Month/Ice Fishing in Gimli, featuring the work of William Eakin and Rob Kovitz.
In 2010-11 Sigrid was hired as Interim Gallerist of Gallery One One One. During this time, she played a major role at the School, receiving a substantial Canadian Heritage Cultural Spaces Grant to support the provision of necessary infrastructure for the new School of Art Gallery in the soon-to-be-built ARTLab. In 2011 she enrolled as a student in the School of Art's MFA program, graduating two years later with a hybrid thesis project that straddled the boundary between fine art and curation. After completing her graduate degree, she was employed as a Library Assistant at the University of Manitoba Archives and Special Collections. In 2014, she was hired as Art Collections Coordinator for the University of Manitoba Collections, serving in that capacity with great distinction until the final year of her life. While at the University in her new position, she taught as a sessional instructor and she continued to serve the School of Art Gallery on its Acquisitions Committee and on the search committee for a new Gallery Director in 2019-20. Dahle also gave occasional, always engaging, guest lectures in various courses at the School of Art.
As active as she was within the orbit of the School of Art, Sigrid's curatorial and writing career (for she almost always wrote beautiful and incisive texts in association with her exhibitions) cut a wide and challenging swath through the exhibition history of Manitoba, Saskatchewan and Alberta. She worked with many institutions in the Prairie provinces, including the Winnipeg Art Gallery, Ace Art, the St. Norbert Arts Centre, SITE Gallery, MAWA, Gallery 1CO3 and Video Pool in Winnipeg; the Muttart Public Art Gallery in Calgary; the Mendel Art Gallery in Saskatoon; and the Dunlop Art Gallery in Regina, as well as Saw Gallery in Ottawa. In 2010 she was invited by Anthony Kiendl, Director of Plug In ICA to curate a section of My Winnipeg, the highly regarded exhibition held at the la maison rouge in Paris and the Musée International des Arts Modestes in Sète, France. The result was a documentary installation entitled There's no place like home. Among others, her many curatorial and writing projects involved the work of Dale Amundson, Lorna Brown, Kay Cherniski, Peter Courtemanche, Sarah Crawley, Michael Dumontier, Vanessa Eidse, Tom Elliot, Jennifer Hamilton, Dianne Higgins, Ming Hon, Steve Loft, Divya Mehra, Kim Morgan, Jake Moore, Kim Ouellette, Hope Peterson, Taras Polataiko, Sheila Spence, Diana Thorneycroft, Karen Thornton, Martha Townsend, Kevin Waugh and Lori Weidenhammer.
A particularly brilliant project was Abattoirs by Artists, completed as part of the Curatorial Consortium assembled at the Mendel Art Gallery by then-Director Gilles Hébert. Abattoirs included work by Lois Andison, Blair Brennan, Dana Claxton, Richard Dyck, Joe Fafard, FASTWÜRMS, Steve Higgins, Matt Holm, Wendy Jacob, Doug Melnyk, Larry Glawson, and Bernie Miller, among others. Also notable are the exhibitions she curated for the Dunlop Art Gallery, particularly Dust, which included the work of Julie Andreyev, Michelle Bellemare, Joanne Bristol, Michael Buckland, Agnes Denes, Stan Denniston, John Noesthedan, Otto Rogers and KD Thornton. What is remarkable about this record of engagement/achievement is that while Sigrid championed the work of Indigenous, female, queer and racialized artists, she did not neglect the work of the established, generally male artists she admired, including artists of the older Modernist generation such as L.L. FitzGerald and Otto Rogers. Her artistic purview was as wide as her intellectual interests were expansive. She also experimented with collectives, forming the Free Associates with Kendra Ballingal and Joanne Bristol.  Sigrid also occasionally engaged in performative public actions for organizations like MAWA and Plug In ICA.
Sigrid was a prolific writer who produced texts for most of her exhibitions – published upwards of 50 texts in association with exhibitions and for other occasions. She was also a frequent lecturer, curator and mentor for Mentoring Artists for Women's Art (MAWA).  She served on many juries for various granting agencies, and on a number of boards (including as President of Visual Arts Manitoba, and Chair of MAWA in 1985-86 and 1994-96). Her engagement with MAWA was a particularly deep one.
She is perhaps best known to the general public as an outspoken art critic for the Winnipeg Free Press from 2000 to 2002. Sigrid took her role seriously, engaging in real critical discourse rather than producing the congratulatory promotional pieces that often pass for critique.
Sigrid devoted her life to thinking, writing, speaking, organizing, curating and dreaming about art, history and life. Born in Saskatchewan and educated in Alberta and Manitoba, she was dedicated to supporting and developing curatorial practice, art writing and art criticism throughout the Canadian Prairies. She brought a rare level of intellectual and critical engagement to her work. Our attempt to encapsulate her achievements, impossible as it has proven to be, generated within us a sense of the energy of her vivid curiosity, and with its all-too-early cessation, instilled in us the thought of what she might have accomplished had her life continued. Dahle's death leaves us wanting more, and grieving at the impossibility of that desire. The School of Art community grieves with Sigrid's husband Larry, her daughter Emma and her many friends and colleagues. She will be remembered as a creative feminist intellectual of the first order. Her sudden and cruel departure leaves a profound void in our community.
Dr. Oliver Botar, Professor of Art History, School of Art 
Donna Jones, Administrative Assistant, School of Art Gallery
Image: Sigrid Dahle at her MFA studio, 2012. Courtesy of the School of Art
A community remembers:
I think of Sigrid Dahle as one of the most inventive and courageous curators I have ever met. Sigrid was an outlier and a maverick when those words still meant something. She considered things (art and artists, aesthetics, politics, books, friendships) that were not easily fashionable; she made her research material through surprising and beautiful exhibition methods: Has anyone ever curated a show of 100 artists that changed each day? Who has published a letter as a curatorial statement? How many among us coined a term that so profoundly reflects the place of our production ("Gothic Unconscious")? She led by example, and always made room. As a young upstart, Sigrid was the first curator that excited me and who took me and my work seriously. She was also a contributor to criticism from our outpost ... She published the first national review of one of my early exhibits, among dozens and dozens of other pieces highlighting so many of us. As serious a thinker as she was a friend and someone attuned to personal connection ... not necessarily, in my experience, a 'community builder' but someone who slyly made you rethink what 'community' could be ... Sigrid was a mentor to me, informally. On occasion we would meet to discuss our research, but usually it was Sigrid offering insight and enthusiasm for my projects over a gin and tonic. I remember visiting the show she curated in Paris, which was really more like a psychoanalyst's salon full of art from Winnipeg... amidst what I remember as at least a hundred objects/artworks she had hung a postcard of the Royal Art Lodge next to some very expensive piece of art, and placed a 19th Century chaise lounge in the middle of the room ... Always looking for a place for contemplation! When I moved away she would periodically check-in and sometimes send me job opportunities in the hopes that I might be swayed back to Winnipeg so that she would have another conspirator. I remember our friend Sigrid as brash but sensitive; a woman with one helluva laugh and kind but serious eyes; amazing hair and even more illustrious points of view. 
Kegan McFadden, Executive Director, Victoria Arts Council
Nov 10, 2020
In 1987 Sigrid Dahle became the administrator at the Brandon Allied Arts Council. Soon after, in a new home, it became the Art Gallery of Southwestern Manitoba.  Over the following years Sigrid oversaw the transition to a professional contemporary art gallery. She presented exhibitions that were challenging and of the highest calibre, using them as learning opportunities for local artists and the public.  Sigrid was excited about the gallery and her excitement was contagious. The gallery was the place to be.  She demanded professionalism from everyone, never accepting that Brandon should expect anything but the best.
For me, following my year in MAWA, Sigrid arrived at the most opportune time. She was among the first people who ever told me I could be a professional artist. She was encouraging, giving me advice, giving me permission to experiment and to take risks. Sigrid gave me my first show at a professional gallery, encouraging me to paint, paint, paint.  I will never be able to thank her enough for what she did for me, personally as an artist, and what she did for the Brandon arts community.
Shirley Brown, Deloraine, Manitoba
Nov 10, 2020
I was just getting to know Sigrid – she warmly welcomed me to the School of Art and the University of Manitoba, and was a generous mentor and colleague. She always had time to talk with me – the last time we spoke, she called me back from the hospital to answer some questions I had about acquisitions. She didn't have to, and I told her as much, but she told me she was happy to do so; it was good fodder to take her mind off.  She was witty and super smart, always had great advice. Although we were just getting to know each other, I'd long since known of her writing and curatorial work, which always seemed to lead to into heady, unpredictable and speculative realms, very exciting stuff. I reached out to her in 2007 when I was in grad school. I was doing research about dust and Duchamp and contacted her to ask about a brilliant exhibition she had curated for the Dunlop Art Gallery in 2003. It featured a work by Toronto based artist Michelle Bellemare, a pair of life-size socks, hand-knit from dust and cast off into the corner of the gallery. These humble, abject objects that ask us to reconcile with the entropy and decay that was always in our proximity, that was of us, but that was not us. I emailed Sigrid about the show and she wrote me back: "I was using dust as a metonym for investigating social connectivity across time and space; social connectivity at its most subtle and sublime." I think about this now, a potent and poignant reminder that we remain connected even when physical proximity is not possible, even when we become diffuse and molecular.
"Dust," Sigrid wrote, in the exhibition text, "elucidates the dream...in which social connectivity is possible without the burden of subjectivity or the weight of personal responsibility."
Imagine then, a dust mote illuminated by a band of sun streaming in through a dirty window.  Each speck is a tiny airborne island, a single idea, a molecule of being. Where does it go? Where do you go from there? Where do I go from here? Where can we connect?
Blair Fornwald, Director/Curator, School of Art Gallery
Nov 10, 2020
SIGRID DAHLE: I Never Stopped Being a Curator
MFA Thesis Exhibition 

I Never Stopped Being A Curator is a rigorously playful experiment in the form of a gallery installation. Blurring the boundaries between curating and artmaking, this project shows how to make things with words. Marcel Duchamp looms large, staging a return by way of a purchased 'readywritten.' 
Left: Sigrid Dahle,  I Never Stopped Being a Curator (after Lygia Clark), 2013, 16" x 32", printer ink on stretched canvas paper.
Right: Sigrid Dahle, I Am Here (after Walter Hopps), 2013, 16" x 13", picture frame, document (letter of acceptance), commercial vinyl lettering.
Image credits: Larry Glawson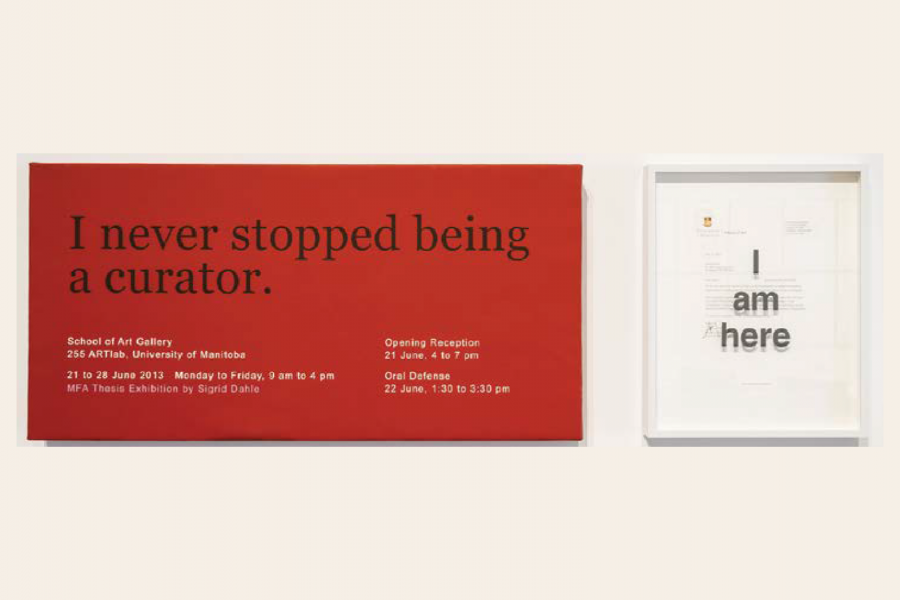 I am deeply saddened to learn of the passing of curator, artist and art writer, Sigrid Dahle. Sigrid was a significant force in Manitoba's arts community and beyond and I, like many others, truly admired and respected her. I had the good fortune to witness Sigrid's innovative curatorial approach in exhibitions that amplified the work of countless artists. In particular, I recall her curatorial residency at the School of Art where she carried out the ambitious multi-component project, The Gothic Unconscious. I also think of her contribution, "There's No Place Like Home," part of Plug In ICA's groundbreaking international exhibition, My Winnipeg.
In 2007, I had the privilege to work closely with Sigrid as she guest-curated the Gallery 1C03 exhibition, Casualty, which featured the work of Lorna Brown and the late Bernie Miller. Sigrid attended every aspect of this project with great care – from conceiving the show especially for 1C03's intimate space and campus audience through to the details of the accompanying publication content and design.
Sigrid's curatorial practice was scholarly – always, it was rooted in research. She was especially devoted to examining and making evident linkages between the past and the present here on Treaty One Territory. And her methodology was creative – in her writing and through her exhibition installation strategies, she used collage to emphasize the interplay of seemingly disparate materials (archival sources, ephemera, visual art) – bringing fresh perspectives to often told stories and drawing attention to under-represented voices.
A good example of this was her creative response for SOA faculty member Mark Neufeld's Gallery 1C03 exhibition, Re-Enactments. Sigrid made a significant contribution to this project by offering readers a rich personal response with multiple points of entry to this multi-layered exhibition.  It's a piece that I think of often and which I recently recommended to an emerging curator.
Over the last few years, I thoroughly enjoyed the conversations we shared when she was Collections Coordinator at the University of Manitoba as we swapped information, strategy and advice on collections care. But I also cherished her sharing news of her latest curatorial research project – once again in the Archives.
Jennifer Gibson, Director/Curator, Gallery 1C03
Nov 10, 2020
I was incredibly lucky to have connected with Sigrid soon after moving to this city from Vancouver in 2011. In many ways, she introduced me to Winnipeg, through conversations at the school and at openings and events. We first met while I was interviewing for my position at the School of Art. After my research presentation Sigrid, who was in the audience, asked some probing and generative questions. Soon after I was hired, she—a well-established, smart curator with an active curating practice—enrolled as a studio MFA student (of all things!) and decided I should be her advisor. She asked me and I accepted.  
Her stint as an MFA student, she revealed to me soon into our collaboration, was a mischievous performance artwork designed to probe at the division of labour existing between curator and artist. Over the course of two years, Sigrid developed a hunch into an impressive MFA thesis, consisting of art works and texts, exploring the idea that everything in modern post-industrial life had become some form of curating, not least of all art-making "after Duchamp". She worried about this condition of curating, she wondered and was amused at the growing cache bestowed upon the musty old idea of selecting and caring for artworks (although her curating was never musty!). She also saw in curating—whose etymological root is the same as "caring"—a model for social care mediated by objects of value. Among other things she viewed art works as thought-machines and as stand-ins for—and palliatives to—individual and historical traumas.
Sigrid practiced curating as a kind of probing-yet-caring, gentle and respectful dismantling of thought categories. Serious works and minor works for her were of potentially equal significance; it depended only on how they were put to use, and her curating was definitely use—and user—oriented. The caveat being that use for her was not strictly utilitarian, but an idea capacious enough for what might be called directed uselessness. Directed uselessness for Sigrid could be capitalist critique, and critique for her was always useful. 
It's a shock that Sigrid is gone. As my student, she introduced me to ideas that I'm still working through. I'll miss Sigrid and the richness of her thought, and I'll miss the future/potential shows, texts and artworks that she would have produced, which sadly we will never get to share.  
Mark Neufeld, Associate professor, School of Art
Nov 10, 2020
I first met Sigrid Dahle at the artist talk that I gave as part of my hiring process at the School of Art.  I knew of Sigrid's ground-breaking curatorial work already, and her presence at my talk pleasantly surprised me (and instantly raised the profile of the School for me).  During the Q & A, Sigrid posed a challenging, needed question about decolonization.  I would soon see that this immediate, deep engagement with art's implications, and her lack of hesitation in delving into difficult content, was fully characteristic of Sigrid. 
I was delighted when the questions and conversations continued, first in spontaneous meetings at art events, then at deliberate dates as our friendship quickly formed.  Soon we were going to artist talks, openings, performances, and fundraisers together, but also to special birthday parties and baby showers.  Over the years, during quickly-snatched packed-lunch dates or coffees on campus, or --much more preferably-- during long, rambling evenings over food and drinks at one of the many restaurants that Sigrid enjoyed scouting, Sigrid and I talked… and talked.
Conversations with Sigrid were rich, deep, wide-ranging happenings that touched on art, culture, Winnipeg politics and life, institutions and systems, parenthood, travelling for work with a young kid, sustainability, food, ethics, psychoanalysis…  I was usually left tingling with fulfillment, with empowerment, with the support that was offered, with a renewed belief in our individual and collective strength. 
Invariably, the next day Sigrid would write me, offering even more by sending along texts and links relevant to our discussions -- a generosity of time, and of knowledge and resources, that I often felt I couldn't fully benefit from or reciprocate because of life's many demands, and which I will sorely miss.
What Sigrid also gave freely in each and every one of those conversations was conviction -- an unflagging commitment to believing we can and should do better, and she had strategies for how to do so.  Her conviction was so clear, strong, and perfectly (and respectfully) articulated, that she was totally convincing; she eradicated any opposition.  She had a rare long-range vision of how art could function in society, and an uncommon nimbleness of thought; she would casually offer one or another brilliant idea or analysis (for art programming, for how the School could --rightly-- be improved).  She continually expanded the realm of the possible for art/curation/community/everything in-between.
In the last few years, Sigrid spoke often about visual literacy and the perceptions of art in the various art communities (professional, philanthropic, amateur, general) which she bridged in her position as Art Collections Coordinator for the University of Manitoba.  She was occupied with the paradoxes and frustrations and rich rewards of holding multiple spaces and modes for art at the same time – not easy to do, but she did it.  I admit I was hoping that a book was coming from this research; though I tried not to pressure her, I knew that it would be a humongous contribution, and that she was the person to do it.  As Diana Thorneycroft said to me recently, Sigrid had so much more to give.
Sigrid was wonderfully full – with her lovely soft voluminous hair, her thoughtfully chosen clothing (I especially loved her shoes and necklaces!), and her very, very good hugs.  She was working her way through a beloved cookbook (a gift from her daughter Emma), she was talking before and after about her trip with Emma to France.  Her deep love and care for her daughter were always vividly palpable.
I've known Sigrid a relatively short seven years.  I'm envious of the many more years that others were lucky enough to have had with her; I grieve all the years ahead that have suddenly, shockingly, disappeared.  But most of all I mourn what we've all lost.  We've lost one of art's most articulate advocates, a great intellect, and a steadfast moral bar-setter, holding us to account.  And for me as well as for so many, we've lost a cherished friend.
Sarah Ciurysek, Associate Director, School of Art
Nov 10, 2020
Blind Spot: The Gothic Unconscious
30 October to 05 December 2003

Blind Spot was the first exhibition in a multi-component project, The Gothic Unconscious, curated by Sigrid Dahle, Gallery One One One's curator-in-residence until April 2004.
Image: Opening day installation of Blind Spot:The Gothic Unconscious. Photograph by Bob Talbot.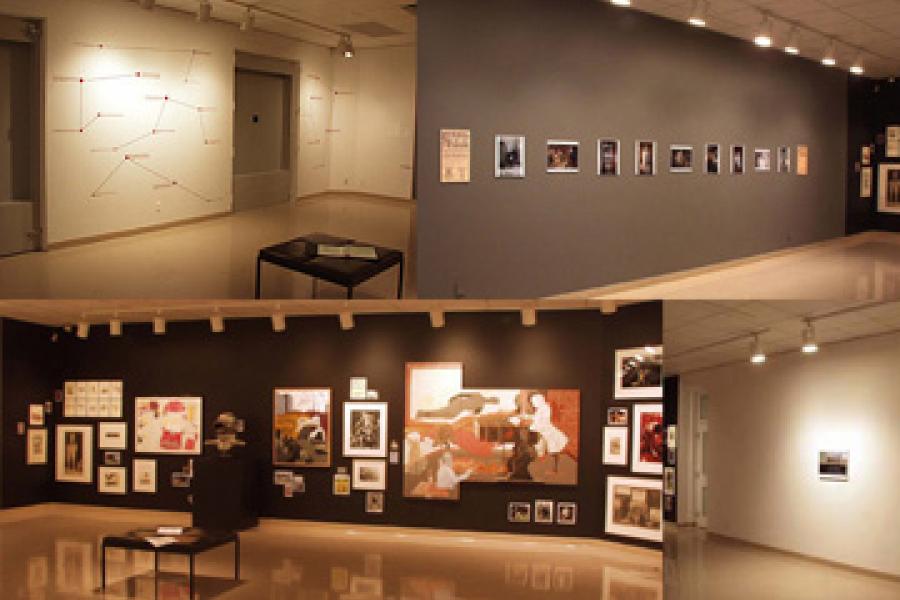 I like to think of Sigrid on a sunny patio with a glass of wine in her hand. Laughing, tousled, sardonic, wearing subtly quirky jewelry, seeing through everyone. Yet warm-hearted as she listens closely and offers astute advice you're not quite ready to hear or plots how to divert resources to artists the rest of us don't yet understand. All of that somehow wrapped around the fierce love of a mother grizzly. To keep her spirit alive, let's face reality unflinchingly and tolerate no pretence.
Helen Fallding, Manager, Centre for Human Rights Research
Nov 10, 2020
Sigrid Dahle's contribution to the founding of Mentoring Artists for Women's Art (MAWA) and its day-to-day operations is immense. She exhibited in the first MAWA Members' show in 1984 and joined the Steering Committee of the organization later that year. She served as a member of MAWA's first Board of Directors in 1986 and rejoined the Board from 1993-1996. She was a Foundation Mentorship Program mentor in 1992, 2002 and 2007, and the Curatorial Mentorship Program mentor in 2010-12. Sigrid initiated, participated in and led more MAWA programs than we can name: editing publications, organizing exhibitions, leading reading groups…. Her curatorial bravery and intellectual curiosity were unrivalled. We are deeply saddened by this profound loss to our community. 
Shawna Dempsey, Co-Executive Director, Mentoring Artists for Women's Art - MAWA
Nov 10, 2020
Sigrid Dahle-
My first impression of Sigrid Dahle came from reading her art reviews in the Winnipeg Free Press, squinting to get a good look at the person in the tiny black and white thumbnail photo printed next to her name. The curly hair, the unique name, a critical (female) voice in the local art scene, it was all very intriguing. As an art history student with aspirations of becoming a curator, Sigrid's writing and curatorial work seemed to set a standard for what was possible. And it was a high standard. "The Gothic Unconscious" at Gallery One One One still boggles my mind; ambitious, thoughtful, rigorous, fun... Sigrid demonstrated that curatorial work was creative work. When I landed at the Art Gallery of Southwestern Manitoba in Brandon with my first curatorial gig, I was unaware that I was coasting in Sigrid's slipstream. She had held the position of Director of the Brandon Allied Art Centre years prior, helping to guide it into the AGSM and further establishing a cornerstone for the arts in Westman. It was my good fortune to follow in her legacy there, but it would be years before we would encounter one another in earnest. It took us each working at the University of Manitoba to become colleagues and friends. Truth be told I had been intimidated to work with her but soon found that I had no reason to be. Sigrid was generous, encouraging, a deep thinker with a playful mind. During our time working together and later when she became a student in the School of Art's Masters program, we shared lunches and coffee breaks where we would talk about ideas for our creative projects. I felt lucky to have been able to hear firsthand about the research and work toward "There's No Place Like Home," her contribution to the "My Winnipeg Project" that was exhibited at Plug In ICA and travelled to la maison rouge in Paris. She shared freely about her experiences, her goals, and even her self-doubts. She was always present and invested in my ideas as well, always open to listening to my unformed thoughts, and always pushing me forward. Whether she realized it or not, I considered our relationship in the vein of those casual mentorships that often seem to occur in the Winnipeg art scene. I learned from her wisdom and I valued her insight, especially when it came to her thoughts on creative practice and motherhood. A person didn't have to spend much time with Sigrid to figure out that her greatest achievement and source of pride was her family. She spoke of Larry and Emma often, there was no divide between talk of this personal sphere and talk of her professional work. Stories of bringing her daughter to arts events as a toddler were particularly valuable to me when I became a mother myself. Sigrid never discouraged balancing motherhood and a creative practice, there was room for both and even now I am reminded of her references to D.W. Winnicott's the "good enough mother." When I left my position at the U of M to stay home with my daughter and pursue contract work, Sigrid took over the job at the university and improved it in every way. And in my own moments of self-doubt as an independent curator and writer, I would often think about a photo of Sigrid that I had once seen in a MAWA newsletter. I still think of that image today. In the photo Sigrid is working from her bed, books strewn around the covers and possibly a cat curled up nearby. In my mind's eye I squint to get a good look at this person in the hazy image of my memory. The curly hair, the unique name, a critical voice in the Winnipeg art scene that has given so much to so many and who will never, ever be replaced.
Jenny Western
Nov 10, 2020
I always appreciated Sigrid's curatorial pedagogy and praxis. It was relational, experimental, and challenged conventional understandings about the roles and responsibilities of curators. When she curated The Gothic Unconscious Sigrid exhibited a text I wrote about being Metis and living on a military base in Germany, beside a painting by my friend Leanne L'Hirondelle. It took her some time to convince me to participate, because she said the show was about the ghosts that walk among us, and I was raised in a Metis household with a healthy fear of ghosts, and belief we shouldn't arouse them in anyway. Thankfully she assured me, and participating pushed my boundaries as a curator, and showed Leanne and myself she valued our work, at a time when we often felt unseen, and unheard. But Sigrid always saw Indigenous artists and curators. When Urban Shaman was a small, underfunded, volunteer-run entity, she regularly came to our openings and wrote about our relevance. She continuously gave respect to Indigenous artists and curators in Winnipeg, by asking questions thoughtfully, and providing helpful critiques, with a side of encouragement and subtle suggestions.
Sigrid and I shared some common lived experiences; we both worked at the AGSM in Brandon for a while, and were grateful for the opportunities to serve rural arts communities. We both knew the struggles and joys of freelance curating, which we would discuss when we saw each other at openings and public lectures. We also could relate to one another as proud mothers of young athletic women; her daughter a track star, and mine a competitive gymnast. I was always thankful we had these things in common, and I feel immense gratitude for the strong, impactful, humble, and somewhat understated marks she made along the way. To borrow the words of my friends and colleagues Lita Fontaine and Amber-Dawn Bear Robe, Sigrid was amazing, kind, curious, encouraging, a strong feminist, and proud mother. Mina kawapimitin Sigrid, and thank you for the nourishment you provided along the way.
Catherine Mattes,  Freelance Curator, Art History Lecturer, Brandon University
(Written with the help of KC Adams, Amber-Dawn Bear Robe, and Lita Fontaine)
Nov 10, 2020
Dear Sigrid,
I wanted to write you, say things I couldn't, though you gave me an opportunity to do so.
You were a pioneer in so many respects, a fearless intellectual unafraid to break new ground and gaze on your adopted city critically, with your psychoanalytically fueled x-ray vision. I remember when we met at my job talk in June 1996, before I settled here, how you came up to me afterwards to engage in a conversation that – unbeknownst to us at the time – would last, off and on, a quarter century (this letter may well be it). I was puzzled, dazzled, ruffled, educated, inspired and challenged by each and every one of your curatorial projects that I had the joy to encounter: "Martha Townsend: Stone in a Glass House" (those enigmatic installations in each room of a grand old apartment – I can see it from my window as I write this!), "Muse Ecology" (you introduced me to the haphazard collection of the School of Art – an alchemical transformation into gold, "in the name of the father"), "Diane Whitehouse: Points of Departure" (still one of the most memorable exhibitions of paintings I've ever seen), "Blind Spot: The Gothic Unconscious" (thanks for planting the seed of my project on the history of Winnipeg art), "Trauerspiel" (your assembly of the unholy trinity of Guy, Foote and Hamilton), "Das Cabinet des Dr. Jeanne Randolph" (an ultimately life-changing encounter), "Ghost Month/Ice Fishing in Gimli" (thanks for introducing me to Bill Eakin's work)… There is little of importance in the cultural history of this city that you did not address in one way or another in this stunning series of curatorial projects – each one completely different from – and yet identical – to the other. Each one an example of curatorial innovation of the highest order…
How lovely that we became off-and-on and then on colleagues over the past decade! Your presence helped save my grace during some difficult years. How I will miss our talks at Fools and Horses, my office, the vault, my classroom, committees, the stairwells of Taché … Your solid presence, beautiful sonorous voice, sense for the absurd, almost paranoiac sense for obscure interconnections, blessed each encounter. You (a)(we)re a most curious combination of self-deprecation bordering on underachievement, overachievement bordering on obsession, humility bordering on arrogance, bravery (but never its opposite) bordering on (her)oism, and a congenital inability to suffer fools gladly (unless they served good tea). You were brave to the end, facing a debilitating disease with equanimity, a sudden encounter with a royally murderous virus (at least it's novel) without even a glimmer of self-pity, unafraid to die (I asked you, and believed your answer – you were incapable of bullshit), even phoning friends on your last day of full consciousness to say a pneumoniac "good-bye" ("where are you going?" I asked stupidly) (thank you). Losing you and Cliff within a few months is really too much. Your dying (no, I wasn't in a rush to see you go, just misinformed – sorry) was performed with as much courage as your living.
Hope you have a good trip.
Yours fondly,
Oliver
Dr. Oliver Botar, Professor, School of Art
Nov 10, 2020
Whenever the University of Manitoba Archives was considering adding any documentary art pieces or any artist's preparatory sketches, drawings, or other such types of "near art" to the University's collection, we always sought out Sigrid's expert opinion. Her research skills and knowledge, enthusiasm and energy were inspirational! She was always bubbling with ideas and so much fun to work with; we would always end up laughing at something. She somehow always buoyed my spirits, and if she was facing some challenges she did not remain down but was always looking ahead to better things to come. When she came to work in the Archives for a brief period, she was soon getting our oversize collections moved and organized. Staff remember her with great fondness.
I had the additional pleasure of being on Sigrid's thesis defense committee. In fact her thesis defense was actually a piece of performance art with all of the committee members being part of the performance. Her thesis was provocative and illuminating. I always found conversations with Sigrid stimulating and informative. And of course we bonded over her interest in the Hamilton Family séance photos and her interest in Indigenous communities and colonialism. I remember her very vividly when she first came to investigate the Hamilton collection, she made such an impression on me. Her electric hair, her stylish look, her amazing jewellery that somehow always made a statement; Sigrid was not someone you forgot. And I remember her great kindness to me when I was recovering from cancer. I do feel privileged that I got to know her. She was a kindred spirit.
Shelley Sweeney, Senior Scholar, University of Manitoba Archives & Special Collections
Nov 12, 2020
Shelley Sweeney and Sigrid Dahle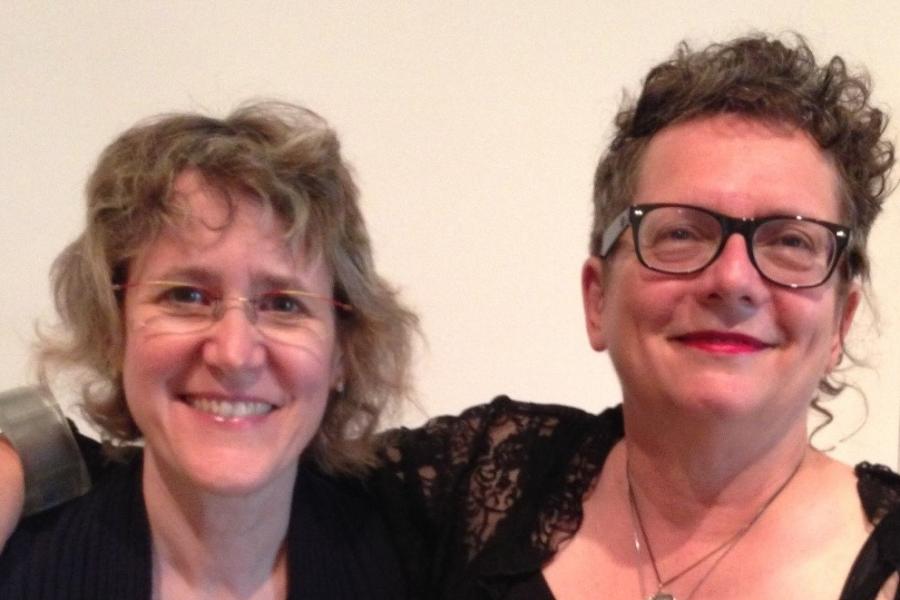 Remembering Sigrid Dahle and The Gothic Unconscious
With Sigrid's passing, I recalled the time I worked with her when she was curator-in-residence at Gallery One One One. During her residency, Sigrid produced a remarkable project for the gallery titled, The Gothic Unconscious that ran from October 2003 to April 2004. It was a brilliant and ambitious curatorial undertaking on many levels that tapped into the psyche of the city of Winnipeg. The late Cliff Eyland, gallery director at the time, wrote: "The Gothic Unconscious, which included work by over 50 artists spanning 500 years of image-making, (wildly) speculated that Winnipeg is a city haunted by the ghosts of its traumatic social history… this aura of tragedy and impoverishment manifests itself in the abject, uncanny and surreal quality of much contemporary Winnipeg art, even when this work doesn't explicitly address the city's troubled histories." 
The Gothic Unconscious was a multi-component project presented in four parts. What excited Cliff and I about the project was not only Sigrid's bold and novel attempt at psychoanalysing Winnipeg through its contemporary art and socio-cultural history, but also her reconfiguring of the gallery for each component in a unique expression of her curatorial thesis. For the first exhibition, Blind Spot, Sigrid delegated a section of the gallery to a 'permanent' exhibition of works by such well-known Winnipeg artists as Ivan Eyre, Esther Warkov, and Diana Thorneycroft; on another wall she created a broken timeline of significant (and distressful) dates in Winnipeg's social history. Sigrid managed to expand the limits of our small gallery with an innovative '24-hour wall'. Painted grey, it featured works of art that changed on a daily basis, by a wide range of Manitoba contemporary artists that amounted to over 100 pieces being shown over the course of the Blind Spot show. 
Sigrid transformed Gallery One One One into a 'theatre' for her second exhibition, Trauerspiel (or 'mourning play', a German literary genre), painting the walls black and providing seating for the showing of films by Guy Maddin. The darkened gallery, which included archival photographs by L.B. Foote of early 20th century Winnipeg and photo-documentation of Dr. Thomas Glendenning Hamilton's investigation of paranormal activity, such as seances, conducted in Winnipeg between 1918 and 1939, also set the stage for a series of performance/lectures by Winnipeg psychiatrist Dr. Jeanne Randolph. In Das Cabinet Des Dr. Jeanne Randolph, she channelled the 'mad psychiatrist' from the famous 1919 German expressionist film Das Cabinet Des Dr. Caligari, in delivering her often humorous, improvisational lectures. For the final manifestation of The Gothic Unconscious, Sigrid painted the gallery walls an icy white as the backdrop for William Eakin's Ghost Month photographs. And once again she reconfigured the gallery space, this time turning the gallery into a reading room with comfortable armchairs shrouded in white cloth and side tables stacked with Rob Kovitz's encyclopedic publication, Ice Fishing in Gimli. 
As you can imagine, Cliff and I had an exciting time working with Sigrid on The Gothic Unconscious. It was an exceptional project that demonstrated Sigrid's impressive skills as a researcher and talents as an intellectual and curator with a deeply personal commitment to the Winnipeg arts community. Through The Gothic Unconscious project Sigrid provided ample evidence for the existence of a Winnipeg state-of-mind that is at once melodramatic, surreal and at times sad and tragically comic.  
Throughout her life, Sigrid embraced Winnipeg and was a constant champion of the city's arts scene, lending her literary and curatorial skills to numerous projects that celebrated and advanced the arts on the Prairies. I always admired the experimental bent she brought to language, and how she successfully turned her curation into a conceptual practice (the subject of her MFA), becoming a self-described 'micro-performative curator.' Sigrid was a kind, hardworking and good-natured friend and colleague. I mourn the loss of her passing, but I will always remember the important contribution she made to Gallery One One One, Winnipeg and art history in Canada.
Robert B. Epp, former Gallerist, Gallery One One One (2001-2010)
Vancouver, Canada
Nov 15, 2020
Over the years I had the pleasure of working with Sigrid in various capacities including at MAWA (Mentoring Artists for Women's Art), when she was Chair of the Board and I was the Director. It was 1994 and the highly successful foundation mentoring program for emerging female artists had been going strong for ten years, but MAWA had hit a pivotal point and it was time to broaden its scope. It was Sigrid who had the vision to expand and invigorate programming by adding options for mid-career artists, including rural artists, and implementing dynamic options to make it relevant to artists at all levels in their careers. It was Sigrid's foresight and her creative thinking at a critical time that has helped keep MAWA relevant and flourishing to this day. Sigrid gave generously to the art community in Manitoba and beyond, and I am grateful that I was able to collaborate with her on projects that made a difference, and forge a collegial friendship with her while doing so that I will always cherish. Sigrid leaves us her legacy of brilliance, uncompromising quality, and passion, which she brought to everything she did. Sigrid left me a most precious gift – an essay she wrote about my work titled, Ruminating on Dignity in the Presence of Arbor Vitae. In it she states: "their so-called imperfections – traces of a life lived, meaning made, relationships nurtured and contributions offered – record all they have endured and accomplished whether as shelter-giving tree, architectural support or 'pillar of the community.' " Sigrid was indeed a pillar of the community and for me personally a long-time colleague and friend. She will be greatly missed.
Grace Nickel, Associate professor, School of Art
Nov 19, 2020