Sustainability of Canadian Agriculture Virtual Conference
Changing environment, changing farms
MARCH 1-3, 2021
Co-hosted by the University of Manitoba's National Centre for Livestock and the Environment and Agriculture and Agri-Food Canada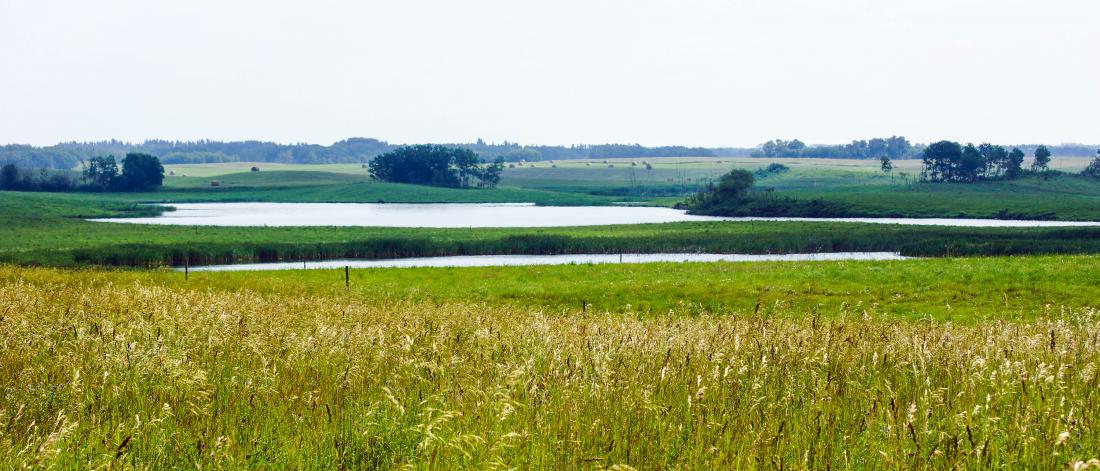 About
This online conference will feature morning workshops and afternoon panel discussions with producers, researchers, and industry specialists representing both crop and livestock sectors. Workshops on March 1 & 2 will provide hands-on interactive training for the Holos model and Crop Metrics interactive mapping tool. Afternoon sessions each day will feature brief presentations followed by a facilitated panel discussion addressing the role of livestock in improving soil health, evidence of climate change and the resulting changes in management, and a look at what the new carbon economy could mean for Canadian farmers. Each afternoon focuses on a different theme.
This conference is intended for a diverse audience. The aim is to bring together researchers, students, producers, government, commodity organizations and industry representatives with a range of perspectives to collectively share ideas and experiences about how to improve agricultural sustainability in Canada.
The three days will provide opportunities to explore novel ideas and concepts, including an exciting session with graduate students who will share their research through short videos.
Registered for the conference but can't find your Zoom link? Check your spam folder and if not there reach out to Christine.Rawluk@umanitoba.ca for help.
Conference Planning Committee
University of Manitoba:
Kim Ominski, Christine Rawluk, Emma McGeough,
Doug Cattani, Marcos Cordeiro, Mario Tenuta
Agriculture and Agri-Food Canada:
Roland Kroebel, Sarah Pogue, Aaron McPherson
Schedule At a Glance
Day
AM Workshops
PM Conference Sessions (1:30-4:30 pm CT)
March 1
9:00-12:00 pm
Holos model v4 training

How can livestock be used as a strategy to improve soil health?

CCA CEUs: Nutrient Management (1.5); Soil & Water Management (1.0)

March 2

9:00-10:30 am
Crop Metrics training

CCA CEUs: Crop Management (1.5)

Canadian evidence of climate change - What's happened and how are we responding?

CCA CEUs: Integrated Pest Management (1.0); Soil & Water Management (1.5)

March 3
 
Carbon production, trading and neutrality - What does it mean for producers?
Monday, March 1
Workshop – Holos model v.4 training
9:00-12:00 am CT
Aaron McPherson, Roland Kroebel and Sarah Pogue, Agriculture and Agri-Food Canada

The session will consist of hands on training with the Holos v.4 software and is suitable for anyone with an interest in whole farm modelling. Training will consist of instructor-led demonstrations of how to enter input into the model and process results. A training guide will be distributed to everyone registered for the workshop before the event starts. This guide will include instructions on how to download the software and any other necessary preparations.
Conference Session - How can livestock be used as a strategy to improve soil health?
 Certified Crop Advisor CEUs for the full session: 1.5 Nutrient Management, 1.0 Soil & Water Management
1:30-4:30 pm
Session host:
Doug Cattani, University of Manitoba
Panel discussion facilitator:
Emma McGeough, University of Manitoba
1:30-2:00
Day 1 Student video competition entries: All the Videos

Curtis Cavers, Soil Science University of Manitoba
Landscape Restoration of Eroded Hilltops: Ridiculous or Revolutionary?

Irfan Mushtaq, Boreal Ecosystem and Agriculture Memorial University of Newfoundland
Effect of nitrogen fertilizer stabilizers and cropping system on soil microbial diversity, abundance, and activity of microbes in a boreal climate

Chris Manchur, Biological Sciences University of Manitoba
A New Generation of Crop Protection: Developing Species-Specific and Environmentally Friendly Ways to Control Plant Pathogens

 
2:00-2:15
Welcoming Remarks
Roland Kroebel, Agriculture and Agri-Food Canada
Kim Ominski, National Centre for Livestock and the Environment, University of Manitoba
2:15–3:15
Panel Presentations
 
 
Yvonne Lawley, University of Manitoba
Using cover crops to reach soil health goals in integrated crop-livestock systems
 
Martin Entz, University of Manitoba
Smart livestock integration facilitates organic agriculture and a healthier food system

"Mother Earth never attempts to farm without livestock" (Sir Albert Howard and Lady Eve Balfour). 100 years after this pronouncement organic farmers still rely on livestock to control weeds and recycle nutrients. "Smart integration" means taking the role of animals to the next level. Rethinking the role of farmyard - and other - animals within agricultural and food systems is therefore required. "Smart integration" will allow agriculture to become more thermodynamically efficient and environmentally friendly.

An important component of "smart integration" is embracing the fact that animals can think for themselves and can be trained within a single generation. Animals can do things plants cannot. Designing organic agriculture 2.0 involves greater creativity about role of animals within the system. For example, dogs detecting crop diseases; pig controlling weeds; ruminants reducing N costs in wheat production; and humans as part of the circular nutrient economy. "Smart integration" offers endless possibilities for increasing food production and improving animal, human and environmental health.

 
 
Jill and Clarice Martens, Martens Charolais and Seed
Waste not, want not: the advantages of mixed farming

Cattle and field crops complement each other in a farming system. On our farm, beef manure supplements our soil fertility plan. Edible bean and pea screenings from our seed enterprise provide a valuable protein source for our cattle. Mixed farming allows us to recycle nutrients and get the most out of our animals and land.

 
Melissa Atchison, Poplarview Stock Farm
Cows, crops and conservation ag

Poplarview Stock Farm is an intergenerational family farm near Pipestone, Manitoba. With a land base running the gamut from sandhills to sloughs, grazing management and winter feeding strategies to promote soil health are a cornerstone of the operation. In this presentation we will share the ways in which we integrate livestock with annual and perennial crops to move toward long term sustainability. Cattle provide a diverse landscape and ecological goods and services; crops help to increase profitability. With a focus on profitability over production, this presentation seeks to highlight how long-term sustainability often calls for operating in the "messy middle" implementing practical strategies balancing conventional and conservation agriculture. After all, it can't be green if you're in the red!

 
3:15-3:30
Movement Break
 
3:30-4:30
Facilitated Panel Discussion
 
4:30
Day 1 concludes
 
Tuesday, March 2
Workshop - Crop Metrics training: online mapping application for monitoring in-season crop progress in Canada
 Certified Crop Advisor CEUs for the workshop: 1.5 Crop Management
9:00-10:30 am CT
Erl Svendsen, Catherine Champagne, Aston Chipanshi and Ryan Tondevold, Agriculture and Agri-Food Canada-Science and Technology Branch

Crop Metrics is a Canada-wide interactive online mapping tool that shows:

what to expect for crop yield for several agronomic crops (e.g. spring wheat, canola) at the start of the growing season (with monthly adjustments), and
the environmental factors that help explain the yield forecasts. You can see at a glance where the trouble spots are and be prepared to support farmers in those areas.

In the workshop, you will be guided through a series of scenarios to familiarize you with the features and tools. This workshop will be of interest to policy, program and market analysts; agronomists; agrologists; crop scouts and producers.
Conference Session - Canadian evidence of climate change - What's happened and how are we responding?
 Certified Crop Advisor CEUs for attending the session: 1.5 Soil & Water Management, 1.0 Integrated Pest Management
1:30-4:30 pm
Session host:
Sarah Pogue, Agriculture and Agri-Food Canada
Panel discussion facilitator:
Roland Kroebel, Agriculture and Agri-Food Canada
1:30-2:00
Day 2 Student video competition entries: All the Videos

Ibrahim Gonzalez, Animal Production University of the Republic, Uruguay
Native Prairie improvements potential in the global GHG emission mitigation of beef cattle production systems

Patrick Le Heiget, Plant Science University of Manitoba
System impacts resulting from the integration of dual-purpose perennial grain crops in modern agricultural production on the prairies

Gazali Issah, Soil Science University of Saskatchewan
Lowering GHG Footprint: Alfalfa vs cicer milkvetch and sainfoin

Sydney Fortier, Animal Science University of Manitoba
The environmental impacts of beef raised with and without productivity enhancing technologies (PETs)

 
2:00–3:15
Panel Presentations
 
 
Timi Ojo, Manitoba Agriculture and Resource Development
Can historical Prairie climate trends provide a roadmap for adaptation?

In recent decades, there are indications that Prairie climate is getting warmer, however, this warming trend is not uniform throughout the year. Nested within the climate trends are intra- and inter-seasonal weather variability that influence farm management decisions. Heat and water availability are two important factors that can limit agricultural production on the Prairies. Can the knowledge gained from understanding climate trends provide a roadmap for adaptation strategies? This presentation will provide recent weather trends in the context of historical Prairie climate and discuss the "wildcard" effects which are often hard to predict.

 
 
Marcos Cordeiro, University of Manitoba
Impact of climate change on water crop demand: What to expect in the Canadian Prairies?

Climate change is expected to have a distinct impact on crop yields and water demand. However, those impacts are usually discussed at large spatial scales, making their interpretation at local level more challenging for producers, researchers, and government personnel. In this presentation, Marcos Cordeiro will discuss the specific impacts of climate change on crop water demand in the context of the Canadian Prairies, based on recent findings reported in the literature. Starting with the expected trends in temperature and precipitation deficit, which takes evapotranspiration into account, Marcos will use specific examples in different Prairie provinces to illustrate the expected change in water demand for important crops in the region.

 
 
Meghan Vankosky, Agriculture and Agri-Food Canada
Shifting insect pest population dynamics and distribution across time

Insect development, reproduction, survival, and dispersal are dependent on abiotic conditions, largely temperature. Therefore, climate change could have significant impacts on insect species, including pests and their natural enemies. In the field of agricultural entomology, we use modeling programs such as CLIMEX and DYMEX to make predictions about seasonal pest phenology (within years) and pest distribution (between years). We can also use the models to make predictions about climate change. After nearly 20 years of model predictions, we can now start looking back at model outputs and compare those to current pest distribution data to evaluate the predictive capacity of the models and to understand the impact of climate change on insect pests.

 

David Wiens, Dairy Farmers of Canada
Leading the pack: Sustainable farming

Canadian dairy farmers are naturally committed to sustainability and the environment the longevity of their farms depends on it. Whether it is our investments in the development of tools to help measure the environmental impact of dairy, our efforts in research and development, or the continued adoption of better farm practices, dairy farmers are as committed as ever to the goal of greater sustainability and ongoing improvement.

Dairy farming in Canada has a small footprint, and it is getting smaller. Over the years, dairy farming has made great strides in cutting the emissions, land and water required to produce each litre of milk, thanks to advances in agricultural technology and the sector's ongoing commitment to continuous improvement.

In his presentation, David Wiens will provide an overview of dairy farming's latest environmental assessment and touch on future opportunities currently being explored to build further on our progress on sustainability.

 
3:15-3:30
Movement Break
 
3:30-4:30
Facilitated Panel Discussion
 
4:30
Day 2 concludes
 
Wednesday, March 3
Conference Session - Carbon production, trading and neutrality - What does it mean for producers?
1:30-4:45 pm CT
Session host:
Aaron McPherson, Agriculture and Agri-Food Canada
Panel discussion facilitator:
Mario Tenuta, University of Manitoba
1:30-2:00
Day 3 Student video competition entries: All the Videos

Sristi Mundhada, Biosystems Engineering University of Manitoba
Safe storage guidelines for flaxseed

Peter-Haoxiang Xu, Animal Science University of Manitoba
Probiotics can make a huge difference in agriculture

David MacTaggart, Plant Sciences University of Saskatchewan
Accelerating the Breeding of Cicer Milkvetch and Meadow Bromegrass for Stockpile Grazing

Muhammad Mashaallah Farhain, Boreal Ecosystem and Agriculture Memorial University of Newfoundland
Potential of developing soil based potting media from wood ash, paper sludge and biochar: An environment sustainable approach

 
2:00-3:15
Panel Presentations
 
 
Karen Haugen-Kozyra, Viresco Solutions
The carbon road – Why take it and where will it lead?
 
 
Fardausi (Shathi) Akhter, Agriculture and Agri-Food Canada
Natural climate solution for Canada - Shelterbelts, agroforestry, wetlands and their potential to store carbon and be accredited

Canada contributes significantly to world food production, but this has not occurred without environmental costs. The agro-ecosystem fragmentations and associated habitat destruction for monoculture production have contributed to a reduction of essential ecosystem services, such as carbon sequestration and refuge for beneficial insects and other wildlife. In central Canada, rising temperatures are linked to an increase in multiple-day precipitation events and recent large floods that have affected critical agricultural areas. To prevent further damage in Canada and beyond, we need to increase removals of carbon dioxide from the atmosphere, as well as reduce emissions from fossil fuels and land sector activities. We estimated the mitigation potential of several natural climate solutions related to the protection, management, and restoration of natural systems in agricultural lands that can also deliver numerous co-benefits, such as improved soil productivity, clean air and water, and conservation of biodiversity.

 
Tim Faveri, Maple Leaf Foods
Maple Leaf Foods goals and actions for carbon neutrality

In November of 2019, Maple Leaf Foods announced that they had set ambitious science-based greenhouse gas emissions targets and became the first major food company in the world to become carbon neutral. Tim Faveri, VP Sustainability & Shared Value will share the Company's strategy, goals and actions that have been a part of their purposeful journey to become the most sustainable protein company on earth.

 
Calvin W. Booker, Feedlot Health Management Services by TELUS Agriculture
Capturing carbon credits associated with improved feedlot efficiency and lower GHG emissions in Alberta

This talk will provide a high-level overview of greenhouse gas (GHG) emissions in the beef cattle industry, as well as a brief summary of our 10+ year journey in quantifying, verifying, and selling GHG credits generated from Alberta feedlots in accordance with Government of Alberta Quantification Protocol for Reducing Greenhouse Gas Emissions of Fed Cattle, Version 3.0, February 2016.

 
3:15-3:30
Movement Break
 
3:30-4:30
Facilitated Panel Discussion
 
4:30-4:45
Announcement of student video contest winners and closing remarks
Roland Kroebel, Agriculture and Agri-Food Canada
Kim Ominski, National Centre for Livestock and the Environment, University of Manitoba
4:45
Conference concludes