Fields on Wheels 2020
The 25th anniversary of the Fields on Wheels Conference was held Friday, December 11, 2020 as a free webinar themed "Celebrating Achievement and Building Resilience in Agricultural Food Systems".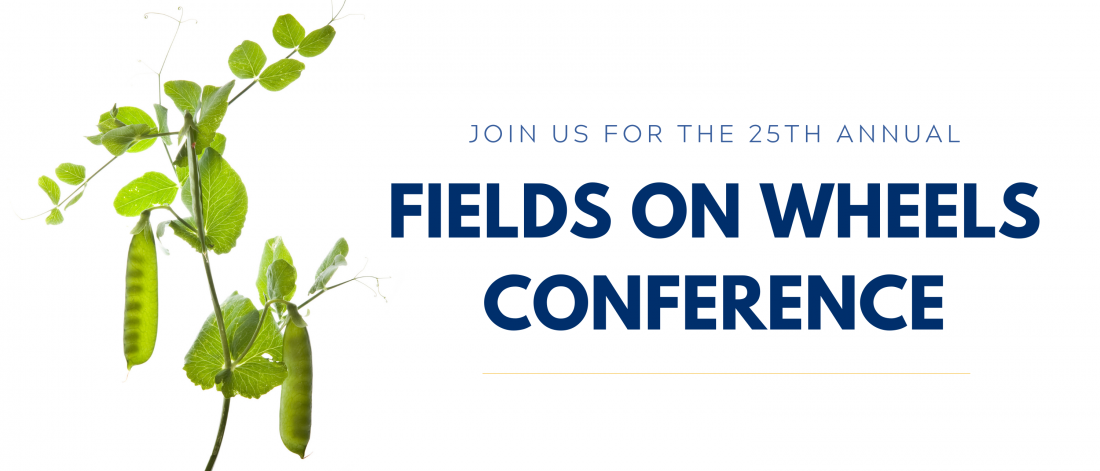 Webinar details
Celebrating Achievement and Building Resilience in Agricultural Food Systems
Friday, December 11, 2020
Webinar
The University of Manitoba is celebrating the 25th Anniversary of the Fields on Wheels Conference - with a Webinar. We had hoped to hold a traditional gathering, but this year is different. The good news is that as communications replace transportation, we can welcome participants from all parts of Canada and beyond to "attend." Moreover, we can celebrate this anniversary year by making the conference available to everyone FREE of charge.
The conference begins with greetings from the Hon. Ron R. Schuler, Minister of Infrastructure, Province of Manitoba. We look forward to Minister Schuler's comments on the developments and issues affecting the transport sector. The formal program in the morning follows building resiliency on the supply side and celebrating achievements.
Vulnerabilities exposed by the pandemic have caused greater scrutiny of all food supply chains and changing weather patterns. Food processing plants depend upon steady supplies of raw materials. Better water management is needed to address climate change threats of droughts and floods. Following a review of Prairie climate change models, we will hear plans to increase distribution and use of irrigation water in Western Canada. This session highlights the impact that irrigation has had on Southern Alberta's food processing sector.
Processing of dryland crops is also receiving a boost. Pulses and special crops are receiving increasing attention as food ingredients. Roquette Canada is in the midst of opening the world's largest pea protein processing plant at Portage La Prairie. The Fields on Wheels is pleased to have the story of this $600 million investment presented here first.
Following a luncheon presentation by CN Rail, attendees will hear how food logistics is adapting to the pandemic. From home delivery and cross-border transport to the new digitization of supply chains new approaches are emerging. One tradition that will continue at the Fields on Wheels is a discussion of grain supply chain logistics. "Where we've been", "where we are" and "where we are going" are addressed by grain handling and transportation industry experts.
The Fields on Wheels conference brings together representatives from all segments of the agricultural industry and logistics supply chains. You should participate in this packed day if you are a stakeholder in this critical industry, whether as a producer or a logistics service provider, exporters, industry manager, policymaker, regulator, academic, student or food consumer.
AGENDA
8:30-8:45 a.m.
 
Welcoming Remarks

Dr. Subbu Sivaramakrishnan, Associate Dean, I.H. Asper School of Business
Hon. Ron Schuler, Minister of Transportation, Province of Manitoba (invited)
8:45 - 10:30 a.m.
 
Session 1 – Climate Change and Processing Resiliency
Chair:    Steve Pratte, Manager, Policy Development, CCGA

"Changing growing conditions: hotter, drier, wetter, colder?"
Dr. Danny Blair, Professor, University of Winnipeg

"21st Century Water Wealth - Prairie Water, Irrigation and Sustainable Agri-Food Economies in a Changing World"
Dr. Graham Parsons, President, Organisation for Western Economic Cooperation

"Alberta Irrigation: farmers, food and climate adaptation"
Margo Jarvis Redelback, P.Ag., Executive Director, Alberta Irrigation Districts Association
    
Questions and Discussion

10:30 – 10:45 a.m.
 
Stretch and Bend Break
10:45 – 12:00 p.m.
 
Session 2 – Celebrating Achievement
Chair: Dr. Bruno Silvestre, Director, Transport Institute

"Opportunities for Pea Starch"
Janelle Courcelles, Senior Manager, Food Innovation & Marketing, Pulse Canada

"Building the World's Largest Pea Protein Processing Plant"
Michelle Finley, Roquette Canada Ltd.

Questions and Discussion

12:00 – 1:00 p.m.
 
Luncheon Speaker and Break Period
Chair: Dr. Derek Brewin, Head, Department of Agribusiness and Agricultural Economics

"Evolution, Achievement and Innovation in Rail Transport"
David Przednowek, CN Rail

1:00 – 2:15 p.m.
 
Session 3 – Innovations in Food Delivery
Chair: Dr. Barry E. Prentice, SCM Department

"A Pandemic Pivot: The Sysco At Home Story"
Kim Doherty, President, Prairies Region, Sysco Corporate

"Trucking in the Pandemic"
Terry Shaw, Executive Director, Manitoba Trucking Association

"Digitizing the Food Value Chain for Resilience and Sustainability"
Neil Van Seters, Director, Global Strategy & Acquisitions, and
David Feaster, Senior Sales Consultant, Ignition by TELUS Agriculture

Questions and Discussion

2:15 – 2:30 p.m.
 
Stretch and Bend Break
2:30 – 4:30 p.m. 
 
Session 4 – Looking Back and Looking Forward
Chair: Hedley Auld

"Twenty-years of Progress"
Mark Hemmes, President, Quorum Corporation

"Dedicated to Grain"
Jon Harman, Managing Director of Marketing, Grain and Fertilizer, Canadian Pacific Railway

"Eastern Route Revival?"
Tim V. Heney, Port of Thunder Bay

"Where are we going from here?"
Neil Townsend, Chief Market Analyst, Farmlink

Questions and Discussion