Alternative Reading Week Winnipeg
Dates: Winter Reading Week (February)
Location: Winnipeg
Fee: Free
Apply by: December 15
How you'll make a difference
Over three days during Winter Reading Week, you will volunteer with a local Winnipeg community partner organization to carry out a project that meets community needs. Prior to your placement, you will attend a series of workshops, called Community Engagement Training, to develop the skills you need to make a positive impact.
During your three-day placement, you will:
get to know your own backyard, and experience Winnipeg's vibrant North End, West Broadway and Downtown communities
make a difference working with a diverse team of students and community partners to plan and implement a hands-on project
glimpse the realities faced by non-profits, and experience the fast-paced routine of community-serving organizations
learn firsthand about social justice challenges and solutions in our city, and explore your role in community
We offer Alternative Reading Week Winnipeg in partnership with the University of Manitoba Student Union, Winnipeg Harvest and various community organizations in Winnipeg.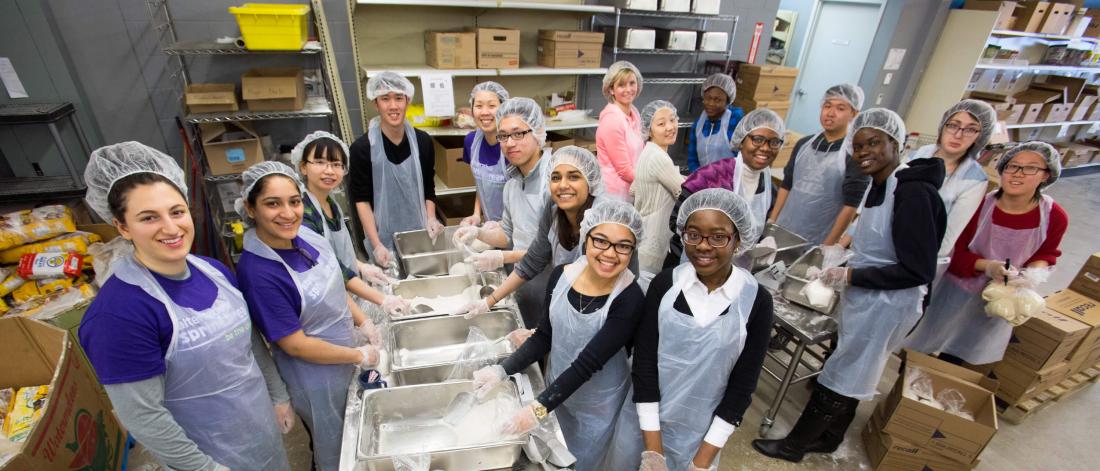 Schedule
The program begins with training in January and February and finishes with a debrief following Winter Reading Week.
Community Engagement Training: Tuesdays, January 14 – February 11
Before your placement during Reading Week, you will develop your knowledge and skills in community engagement and project planning. Build your community partnership, plan your project, and engage in discussion and guided reflections to deepen your understanding of development challenges in Winnipeg and think critically about existing and emerging issues.
Community Engagement Training dates: January 14, January 21, January 28, February 4, February 11
Optional social day: Monday, February 17
Optional social day: Explore Winnipeg with your new friends on Louis Riel Day. Head to the Forks, Festival du Voyageur, go to a community event or visit a neighbourhood that is new to you.
Three-day Reading Week community placement: February 18-20
In your three-day placement, you will implement your community project with your team and the community partner organization. Each day will conclude with a small group debrief and reflection to unpack your experiences and help make connections between your formal academic learning and experiences in the community.
Winnipeg Harvest Day: Friday, February 21
Tour Winnipeg Harvest and get your hands dirty—literally—in the warehouse, sorting food for distribution. Participate in an oppression workshop to understand power and oppression in the context of community organizing. Engage with a powerful and emotional lived-experience panel of Winnipeg Harvest clients, volunteers and employees.
Project assessment: Tuesday, February 25
Finish off your Community Engagement Training by reflecting on your community project and honing your project assessment skills.
Three-month community placement
You can choose a three-month community placement option to build a deep relationship with your team members, community partner and the community you are serving. Longer engagements are strongly encouraged for certain community partner organizations.
Our coordinator
Nicki Ferland has a background in human, Aboriginal and Indigenous rights, Indigenous and anti-racist education, and Indigenous research. 
Our community partners
Students in the Alternative Reading Week program have been placed with a wide range of community partner organizations, including:
Art City
Big Brothers Big Sisters of Winnipeg

Students designed and led mentoring workshops for elementary school-aged children

Circle of Life Thunderbird House

Students designed a winter teaching lodge for a new youth initiative

D'Arcy's Animal Rescue Centre (D'Arcy's ARC)
Ma Mawi Wi Chi Itata Centre
Manitoba Association for Rights and Liberties (MARL)

Students helped produce creative content and communications for public education initiatives

Mount Carmel Clinic
Newcomer Employment and Education Development Services (N.E.E.D.S. Inc.)
North Point Douglas Women's Centre
Norwest Co-op Community Food Centre
Two-Spirited Peoples of Manitoba
Wahbung Abinoonjiiag
West Broadway Youth Outreach
Winnipeg Harvest
Program participants are responsible for the cost of obtaining a Police Information Check and Child Abuse Registry Check if they are placed with a community organization that has vulnerable community members, such as children or youth.
You may also be interested in